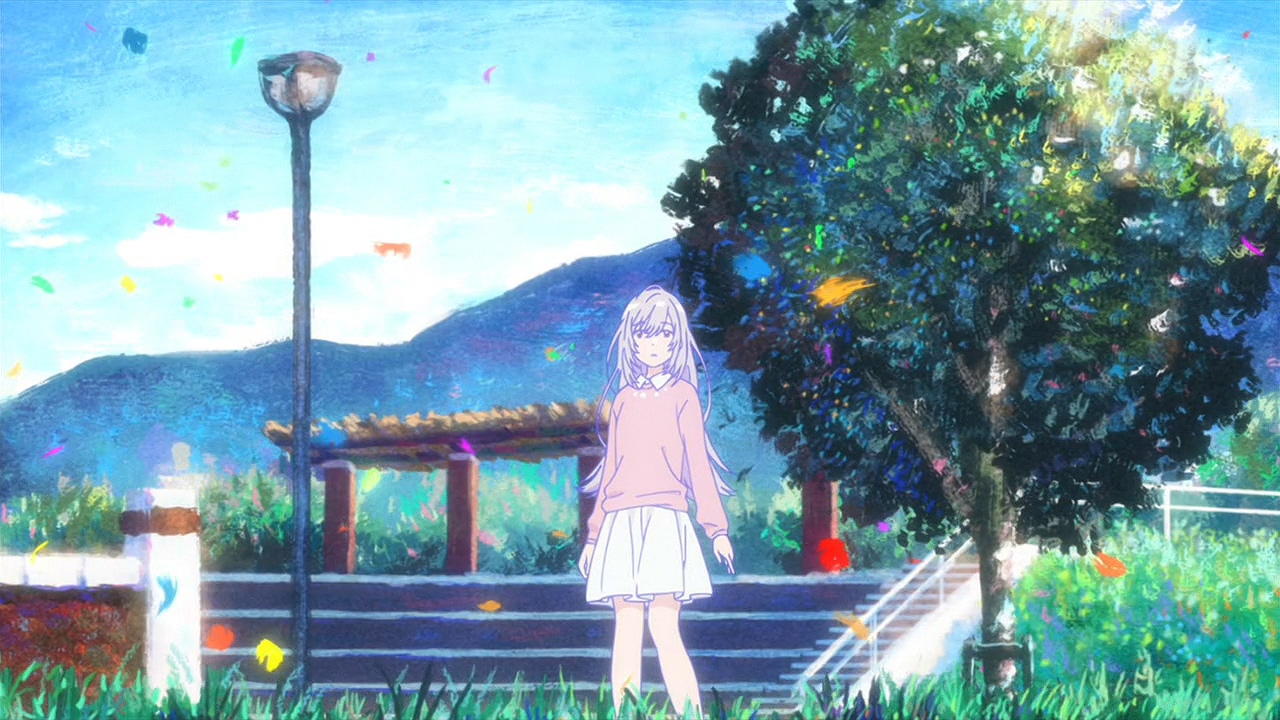 Irozuku Sekai no Ashita kara (hereinafter Iroduku) being a P.A. Works production should set a number of expectations. The studio has, after all, become known for what are basically variations on the essential theme of individual growth: Nagi no Asukara comes to mind, Shinohara Toshiya having directed both of these works with prominent supernatural elements. And it is true that, as expected, Iroduku is full of P.A.'s signature human drama; however, this time, it is woven around the grand theme of artistry and creation. The heroine, Tsukishiro Hitomi, sees the world in black and white since childhood: in hopes of turning this predicament around, she is sent by her grandmother Kohaku sixty years into the past (our present), where she first sees color in a painting of Aoi Yuito, a young man her age who then becomes friends with her along with four other students of the same school: she is now part of the Photography and Art Club, a place which becomes, as expected, the stage for much emotional drama. As the synopsis indicates, there is a commitment to creation as the story's defining motif. In this piece, I explore what consequences this has for the work's ultimate significance.
There's something about Hitomi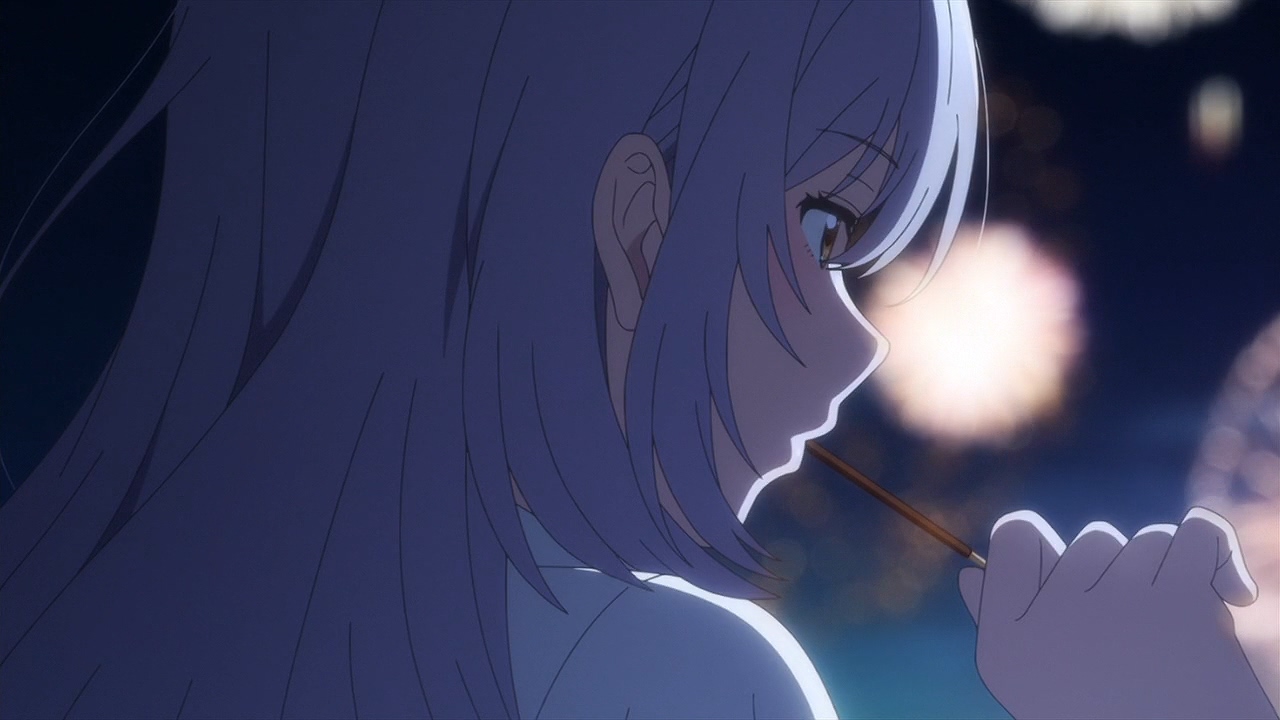 In the philosophy of consciousness, there is a popular thought experiment which centers on a girl called Mary. She spends her entire life in a black and white room, where she learns everything one must know about color, although she never sees it herself. The question is: what happens when she goes out and sees color for the first time? Does she learn something new from the experience or not? The quandary centers around the existence of qualia, that is to say of individually unique perceptions. Iroduku asks an analogous question, which we better perceive by reversing: does the experience of color give her something new to perceive?
Hitomi cuts a lonely figure from the very beginning: a medium shot on her legs (which emphasizes her weary climbing of her stairs) is followed by a long shot of the lonely night she walks (supported by the cold light of the numeric displays), before we move to a flashback: it plays out as though her mind belonged entirely to distant memories rather than the present. In general throughout the show, her disconnect is presented as double: it is both her disconnect with her past (the trauma of having seen her mother walk away on her) and her disconnect with other people. This is what her seeing the world in black-and-white stands for. In fact, most of the show's black-and-white shots are used to emphasize this: we contrast the colorfulness of the fireworks with what her eyes render of them in the first episode; Kohaku rushes to hug her mother in episode four, after which we shift to Kohaku's distant perspective, etc.
Resultingly, the show ties color to shared experience: as early as the first part of episode one Hitomi laments that her loneliness is a 'little spell to protect herself'. To break that spell means to connect with others again: this is how the show justifies putting her through what at first glance appears like a very typical youth (seishun) drama.
We will begin with her disconnect from others. To start with, the group of main characters is more or less complete even before Hitomi and Kohaku join: five people is a usual number and many dramas of its type have functioned with it (Kokoro Connect, Toradora! for instance, and even NagiAsu if we exclude the younger duo of Miuna and Sayu, who don't gain full relevance until the show's second half, or AnoHana if we judge that Poppo is hardly part of the romantic drama). It is set up for a typical seishun narrative: everyone noting how Chigusa "does not feel like a new member" despite joining at the same time as Hitomi proves this. But maybe their days would've been a little too peaceful: this means that they are in a comfortable situation to let her join, and also that her arrival will allow them to embark on a true adventure through youth and love.
To start with this adventure, the show drags Hitomi into some uncomfortable situations (the ethics of which are, admittedly, sometimes questionable). The second episode largely revolves around this, notably when she is forced to use magic in front of everyone. This seems to be considered a narrative necessity: she has to confront even the unpleasant aspects of life. As expected from a series that presents such a worldview, her attitude changes progressively: in episode three she is pushed to play a role in seducing potential new club members with a magic trick, one she fails; despite being originally affected by it, she eventually decides to confront the problem head-on, which leads her to join the club anyway. Slowly but surely, she learns to accept challenges. The most striking example of this comes in episode nine, when Shō confesses to her. She originally runs away from the shock, but being confronted with someone's feelings for her—the reality that her existence is worth loving—pushes her forward. A day later, pushed notably by Asagi, she talks to Shō face-to-face and rejects him, admitting her feelings for Yuito in the process.
In this context, Kohaku is the 'model', the aspirational figure: she always embraces life, and never forgets the original drive to make people happy with magic. Symbolically, she hugs Hitomi to send her into the past; when the heroine comes back, it is her who hugs her grandmother. Embracing others, which culminates in Hitomi's romance with Yuito, is the gist of her seishun story.
This of course means the other main characters' individuality is of the utmost importance, who participate in building the story's themes without ever being mere outlets for the show to express its themes: on this, the school festival provides a good summary of their individual journeys and growths. For our purposes, a good example is Asagi's sentimental crisis as she sees Shō developing feelings for Hitomi: the heroine gives her friend an opportunity to grow. In turn, Asagi informs Hitomi's (and the entire series') worldview that one must tackle hardships head on: the heartbreak gives her greater strength (she eventually musters the courage to sell her rabbit photographs as postcards for the school festival) and elevates her friendship with Hitomi (she is easily the one most affected by the heroine having to leave), who learns her desire to help her friends and be with them as a result: their stories change her. In episode seven, we learn more about the implications of said worldview in an episode which centers on Kurumi's growth. Hitomi intervenes in that she uses magic to cheer up Kurumi, but she only gives her a little push: it's Chigusa who allows Kurumi to come to terms with her situation and focus on photography: it teaches her (and us) that focusing on what one loves at the moment is enough, even if they don't plan to dedicate their future to it. However this serves Kurumi's individual story as much as for the show's narrative: Hitomi can't take her approach, as her issue is with her past and not her future (we can only assume she takes over the magic shop). Episode seven is by all means a typical affair, the camp itself being one of the unavoidable topoi of seishun anime; however, its ending is of interest to us.
Firstly, its framing is something of a shift from that of the lonely silhouette described above: here she determinately faces her companions; after being surrounded by them for the whole camp, she takes a step back to better rejoin them, in a sincerer manner. This is a setup we'd already seen in episode four, although then she did isolate herself; we see it again in episode thirteen. As a general rule, stories like these precisely focus on the sheer euphoria of being part of the group; but Iroduku occasionally interrupts this flow of emotions to make Hitomi the spectator of her days with the club. This is repeated at the level of narrative structure, where the episodic affairs are always bracketed by the red string of Hitomi's adventure; episodes that do not pick up more or less from where the previous one had ended are relatively rare (episode eight, which is framed around Kohaku's feelings, is an exception: see episodes one-two, three-four, five-six, six-seven, and eleven-twelve).
This framing has consequences. Firstly, it denotes the unfamiliarity for Hitomi of what is in front of her eyes; it paints seishun drama as an artwork whose beauty Hitomi must observe (this justifies the group's peculiar setup I described above) before joining. Secondly, an emphasis on narrative continuity means that the event, when it emerges, is something of a disturbance, a break: and this is precisely what gives us an entry into Iroduku's theme of art.
Magic and the Practice of Art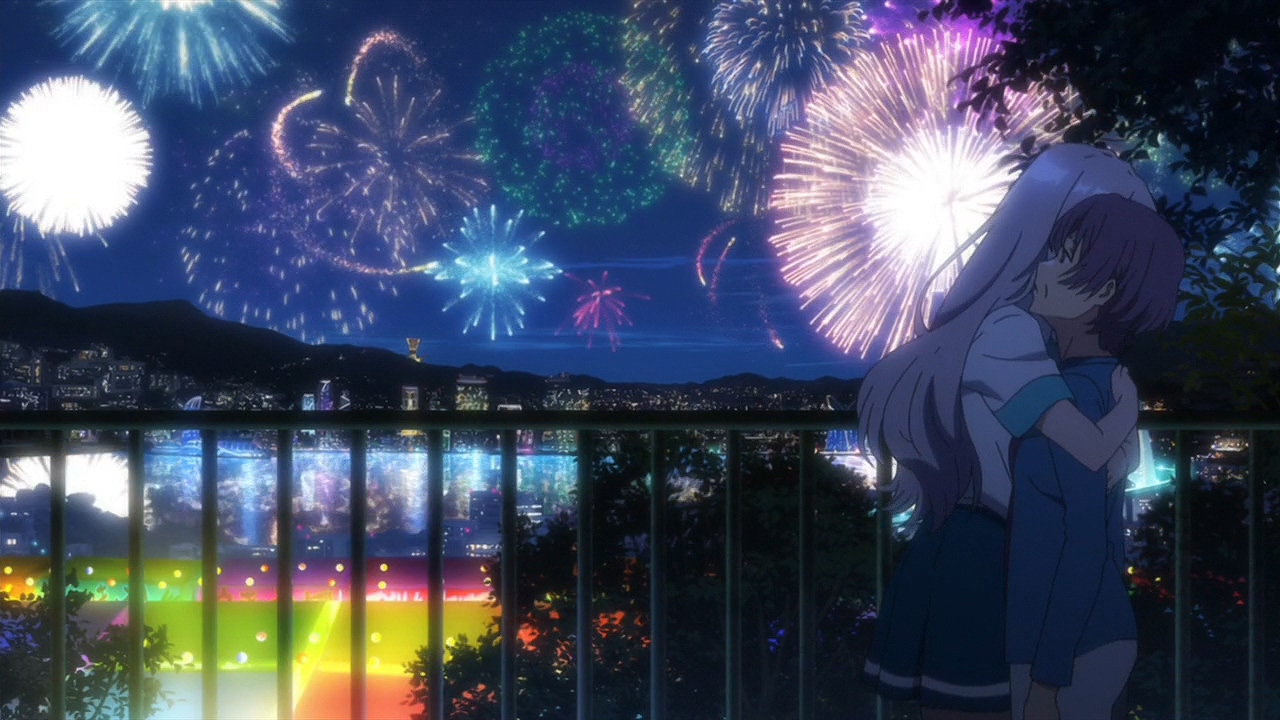 Iroduku can be said to have two disruptive events: the first is obviously Kohaku sending Hitomi to the past, and the second is Hitomi's encounter with Yuito's art. The first time she sees color again is a scene worth stopping on.
It is set up with an important line Hitomi gives when gazing at the landscape of the town she lives in, but sixty years in the past: "it's the same, but slightly different; it's different, but slightly the same". Here she reveals an important motif of her journey, one she will again bring up in the eighth episode as she takes photographs of her surroundings and its people: the rediscovery of otherwise perfectly natural sights by way of seeing them from "another angle": learning that what we see is not such a given after all, and that under a new perspective it can take on a whole new beauty.
This theme first materializes in her encounter with Yuito's drawing. Although its inspiration is not clear, the goldfish is most reminiscent of Paul Klee's painting of the same name: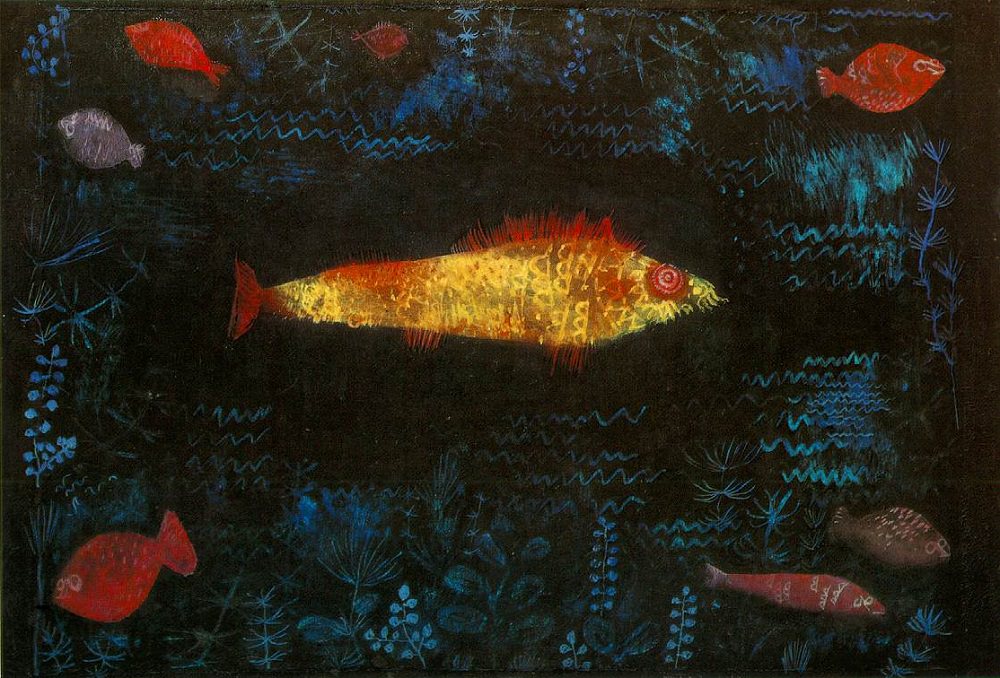 Now it would be presumptuous for me to attempt an interpretation of Klee's painting here—and I doubt it would be relevant for our analysis of Iroduku—, but some general considerations on his style provide helpful hints. His painting is fundamentally modernist in its search for a transcendental truth: he has described his dual position as being 'above the world or a child in the world's totality' (Verdi, 1974). This has led viewers to qualify his work as dreamy and even childhood-like, recording impressions which are both revealing and refreshing in a way those of a child would be. This observation, while simplifying, is perhaps the most relevant for us. As John Twaites remarks: 'As in a dream the manifest content, the images, is arranged and distorted not according to its own nature but that of a latent content which is not seen. Klee has penetrated the material object in all its ways of being. Now he recombines it along the lines of this subjective logic.' (1937) Thus our perception on the object is renewed, it is defamiliarized: this, as we have noted above, very much a theme Iroduku picks up on: and now we can better understanding the seemingly typical seishun story described above as an artwork, as something that upon observation reveals all of its richness.
With this understanding, the significance of Hitomi's encounter with Yuito can now be appreciated. The fish comes out of Yuito's painting, and as it swims across the landscape, paints it over with Yuito's brush: Hitomi thus finds herself immersed in the picture's world, with all its beauty and color. The fish eventually stops moving and looks at Hitomi, at which point she comes back to the real world: it is thus identified with Yuito, a pattern which repeats itself in the sixth episode. But this interpretation is incomplete because the fish does not exist in the picture: as Yuito himself acknowledges at the start of episode six, it comes from the first drawing that got him a prize when he was in elementary school. In episode eight, Kohaku tells Hitomi that being able to 'touch' the other's heart is the condition to use the magic that enables her to step into Yuito's painting: in other words, she is able to sense the drive which the painting hides, which is the real identity of the goldfish (this original source also happens to be identified with childhood, as the first scene of episode thirteen confirms).
Thus this first event is truly an encounter: not between an active artist and a passive spectator, but between two active agents whose worlds clash in order to bring one colorful world into being (it is also an event in the sense of a break with the narrative flow: this is best exemplified in episode eight, when none of Kohaku's experiment help Hitomi recover colors like she temporarily did after the shock experienced at the end of episode six). In fact, at the end of episode five we see Hitomi's magic making the goldfish appear, before it returns to Yuito's tablet: a metaphorical expression of marvelment which magic provides, and of its ability to return to Yuito to what originally attracted him to painting. The goldfish, then, stands for something shared (best supported by its swimming from Yuito to Hitomi in episode thirteen): Yuito's original drive, and Hitomi's detection of it (though also unconscious, as Kohaku takes pain to describe Hitomi's predicament as a subconscious spell she's cast on herself, at the start of episode eight and in episode thirteen most notably). The schema can also be reversed, Yuito's painting providing exactly the colorful perspective Hitomi needs; but in both cases, it is Hitomi's magic which is the condition of an access to the full experience.
Iroduku associates art and magic very closely, and in fact its philosophy of art is implicit in its philosophy of magic: it is Kohaku who expounds that magic should be used to make people happier, and Yuito (and accessorily Kurumi's pâtissière sister) who express the desire to pursue their art because it makes people happy. The difference between the two is, in fact, less than clear: magic could be said to have a different materialist (it has direct effects on its environment and people), but its material effects are denied: Kohaku herself is forced to reckon with this, as she admits in the finale: "I couldn't make those close to me happy". Resultingly it's not clear that magic plays a role so different from art, but we may consider it under the following angle: magic allows Iroduku to consider the act of art as opposed to its aesthetic result: as in episode ten when magic brings the characters into Yuito's painting. To be more exact, its association with an original innocence and joy allows its user to get to the source of things (such as in episode six when Hitomi walks across Yuito's painting to detect the original anguish which lies beneath it), and reveal the defamiliarization which is latent in all artworks (at least this is the claim of some modernist criticism, which called it ostranenie), of bringing it into the world (this is of course best expressed in their first meeting).
However, the show typically emphasizes Hitomi's humanity, for instance as she progressively learns more about photography: Shō notes in episode eight how her shots now contain more 'light', proving that even with her black-and-white world, she is able to bring out new beauties as her perspective changes. Magic enables Hitomi to get to the heart of things, but she may not even notice it herself: it has to be her will, as a human being, which pushes her to a conscious realization. We can thus summarize the original act (Kohaku sending Hitomi back to the past) as setting up the following conditions: Kohaku as the donor who, with her magic, sets up the conditions for Hitomi to get to the heart of things, and Hitomi who acts upon this latent possibility as a person.
We can now summarize Iroduku as follows.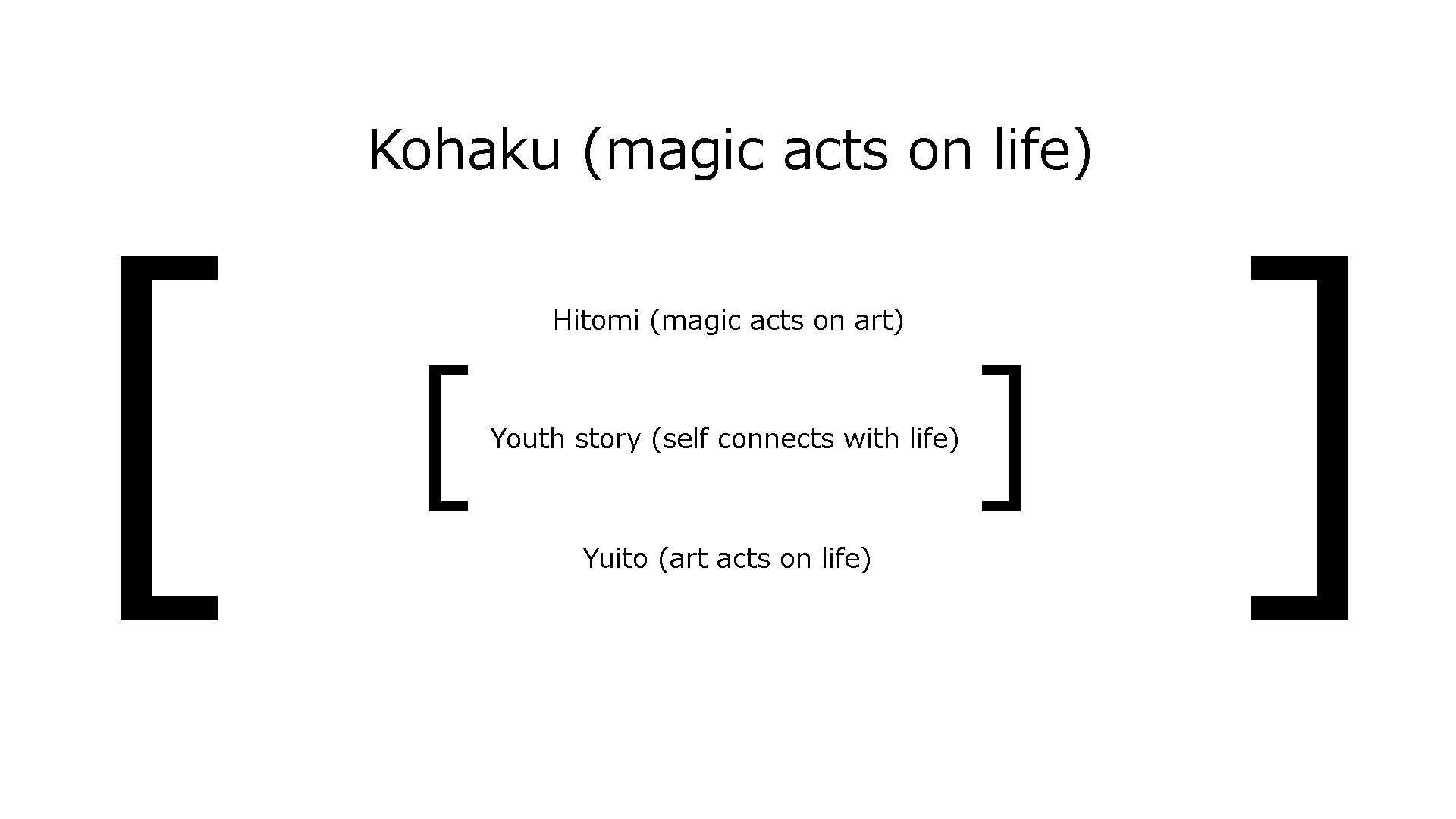 The consequences of this, however, is that we now understand the seishun as framed as if it were itself a fiction, a realization we shall conclude on below.
Conclusion: Youth as Artwork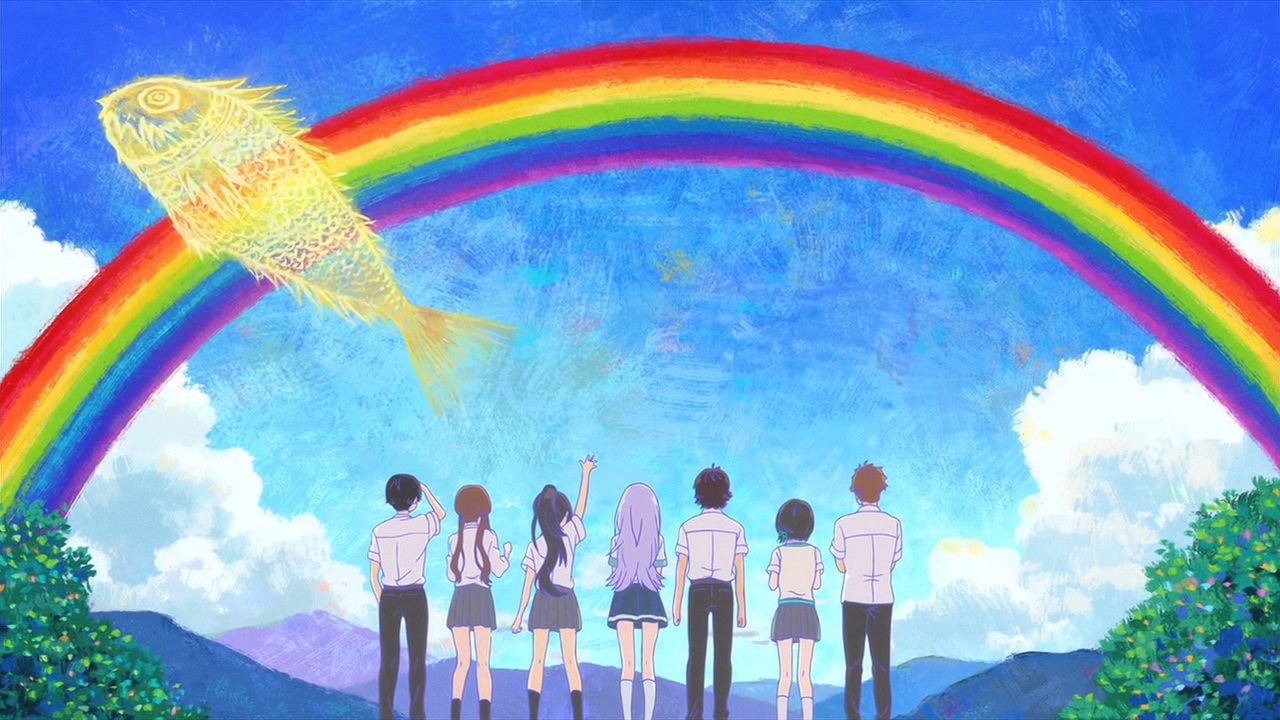 Having learned all of this, the time has come for Hitomi to draw her journey to a close: that is to say,
The ending is first set up in episode ten when Hitomi brings the whole club into Yuito's painting, but the two of them are invited by the goldfish in a dark room where Hitomi's childhood self is drawing dark figures of a princess (herself) and a queen (her mother) who can never meet. The room is behind a door guarded by a rock statue of Hitomi, which seems to reveal that her 'unconscious magic', as Kohaku calls it, is one that 'protects' her from her original trauma: the black-and-white world is her way of coping with a world from which she has cut magic's beauty off. Against this, Yuito draws with her to, as he will say in episode thirteen, encourage her not to give up: push her to find a way to make the two figures meet (after coming back to 2078, Hitomi resolves to go in search of her mother).
In the final episode, Yuito and Hitomi confess their love and all that they've given each other throughout these months. Their will pushes them to embrace their feelings for each other, and they do it in the place that symbolizes their original drive; not only Hitomi's trauma, but also the real reason why Yuito draws, as it is, it turns out, the room where little Hitomi read a picture book Yuito would author: he started drawing to bring joy to the world, which he has, it turns out, achieved. Thus they reconnect with the deeper source of their feelings, and stronger from this resolution, restore color to their world. While love solves her problem, it's a love that ends at the same moment that it fulfills itself: it has all the reality of the later image we see of Yuito and the little Hitomi looking each other in the eye. It is an impression of love.
As Hitomi goes back to her present, so we come back to the frame of the work (the main snarrative of Hitomi and the club being framed by Hitomi's present/our future). To explain the importance of this move, I'd like to reactivate the modernism I'd already invoked above. To do so, I'll start with a quote from Klee himself: '[P]olyphonic painting is in this sense superior to music, in that the temporal is more spatial. Thus the notion of simultaneity is even more richly revealed.' (Gaumnitz, Lévy-Kuentz, & Hetzel, 2005) The significance is that modernism collapses the diachronic into the synchronic, notably in the Formalist criticism that gave us the concept of ostranenie:
[H]ere also it would seem that there can be no genuine sequence of narrated events unless the diachronic sequence of narrated events, the syntax of the narration, is somehow transposed into a synchronic structure. (Jameson, 1972)
The gist of this passage is that the Formalists, instead of considering the time of narration, proceeded as follows: they identified a number of topoi and other commonplace motifs in the stories they looked at, and analyzed the entire story as a series of variations on these essential tropes. The narrative has no time, because it always comes back to its sources in some original, essential motifs. Ostranenie, then, can be understood as the search for an essential truth of the work that the diachronic structures of literature can be reabsorbed in; a truth the kind of which Klee was looking for in his art. Anime has been said to haves its sources in modernism, or at least this is what I'd say we can summarize Ōtsuka Eiji's position as when he calls otaku aesthetics the "unholy alliance of Disney and Eisenstein" (Ōtsuka, 2016). I think this is a paradigm Iroduku largely adheres to. As a matter of fact, barely a moment passes between Hitomi going to and coming back from 2018: all that's left of it is the synchronous impression of defamiliarization which it has left on her memory. Her experiences are summarized by Yuito in a short picture book (short forms were strikingly favored by the Formalists), which similarly lists impressions and colors to praise the richness of life and ask Hitomi: what are your colors? In the picture book, the days spent together are fictionalized, made into the matter of a instant: their length is compressed into one moment where they come together to defamiliarize the way Hitomi looks at the world.
Interestingly, this reveals the fictionality of seishun anime, of the very narrative we had been following for nearly thirteen episodes: the work's very structure carries the admission that these stories are not real or concrete (they resolve in Yuito and Hitomi's shared dream-space), but are meant to invoke a mood which the viewer can take with them after they've finished viewing. Hitomi's days with the Club act on her memory exactly the way a great work of fiction does on us. This amounts to denaturalizing the techniques works like Iroduku usually employ. The story of youth was a work of art which allowed Hitomi to reconnect with life, changing the significance of the series' use of seishun tropes. The final structure could be mapped out as follows: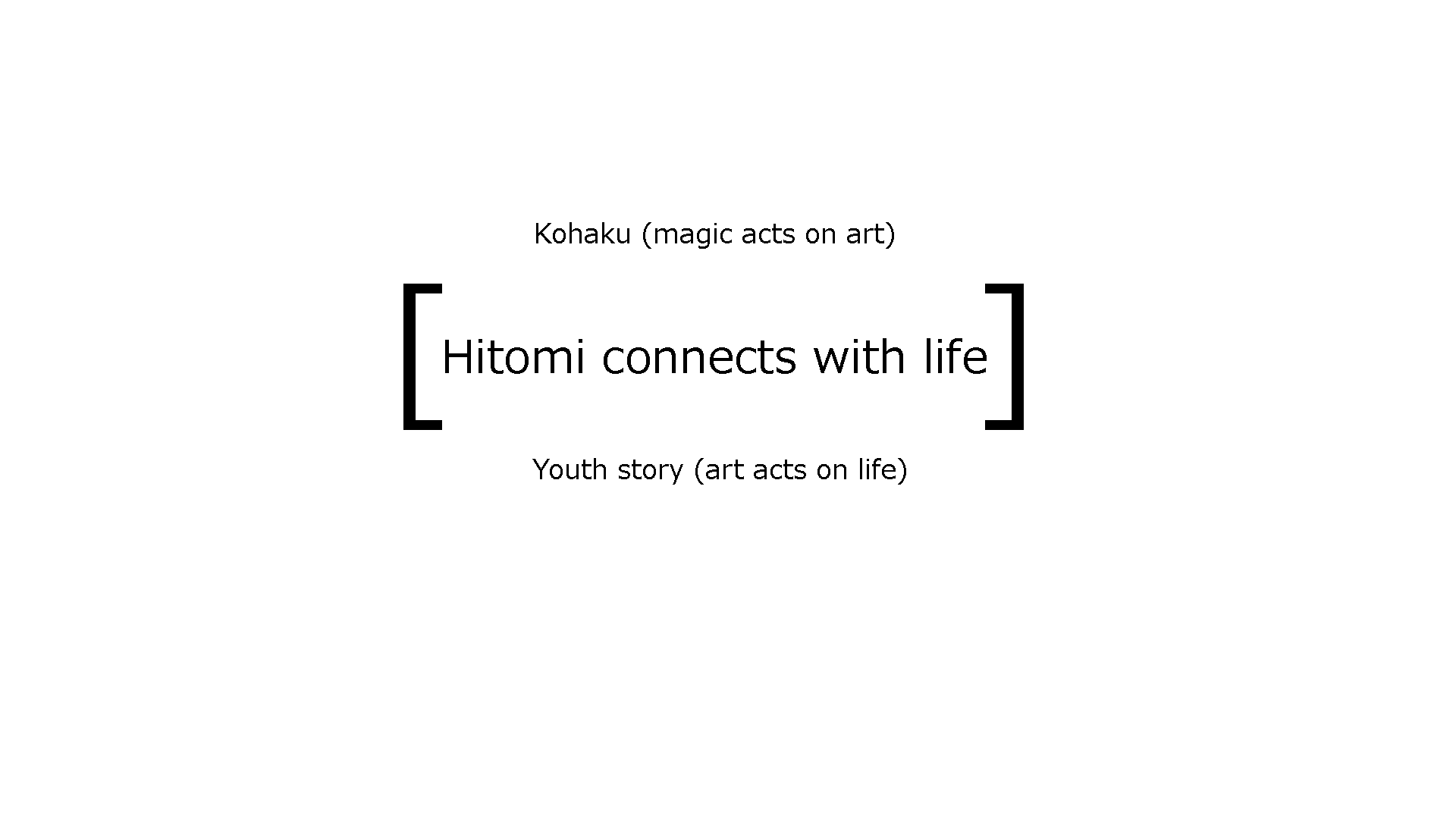 The next step would be to interrogate the form that this appropriation of modernist concerns takes. This is a difficult question, but I think it's important to keep the first episode's framing in mind. As I have mentioned above, the digital panels' lights are cold; technology is omnipresent, with Hitomi's Azurite serving as a smartphone: upon going to the past she is shocked to discover the camera, which as she finds out is a piece of technology that allows her to invest the sights she looks at with a renewed subjectivity; it is as though it had been erased from her present, and in fact in the last episode she enthusiastically introduces the device to her classmates. 2078 is defined by a fusion of magic and technology; the former has been reduced to the latter, and now serves to dominate the environment, not defamiliarize it. Going back to the past can then be interpreted as a way of reconnecting with a time before magic was itself colonized to technical ends. Under this angle Iroduku reveals itself as the expression of a longing for a world with the possibilities of technology, but before it came to make everyday life redundant thanks to its relentless quest for practicality, in the service of which it eliminates interiority (hence there is no more need for cameras).
But, and this would be my chief criticism of Iroduku, it ends on something of an admission of defeat. And I don't mean that it reveals the fictionality of the tropes it makes use of; if anything, my assessment would be that it didn't go far enough in this revelation. Instead of using this unique framing to open up new possibilities, it resolves Hitomi's quest in her and Yuito's dream-space. It accepts the impossibility of a stable life: it imposes on her the burden to change her perspective so she can better accept her present. Now, I'm not about to claim that every story needs to make a grand statement on politics, but the conclusion is all too typical. It reminds me of Fisher's definitive assessment: "[M]ainstream culture has been increasingly reduced to folk psychological interiority." (2014)
---
References
Fisher, M. (2014). Practical Eliminativism: Getting Out of the Face, Again. In R. Mackay, L. Pendrell, & J. Trafford (Eds.), Speculative aesthetics.
Gaumnitz, M., Lévy-Kuentz, S., & Hetzel, G. (2005). Paul Klee :  le silence de l'ange. ARTE France développement [éd., distrib].
Jameson, F. (1972). The prison-house of language: a critical account of structuralism and Russian formalism. Princeton, N.J: Princeton University Press.
Ōtsuka, E. (2016). Otaku Culture as "Conversion Literature." In P. W. Galbraith, T. H. Kam, & B.-O. Kamm (Eds.), Debating otaku in contemporary Japan: historical perspectives and new horizons. London ; New York: Bloomsbury.
Thwaites, J. A. (1937). Paul Klee and the Object: Second Part. Parnassus, 9(7), 7–34. https://doi.org/10.2307/771892
Verdi, R. (1974). Paul Klee's "Fish Magic": An Interpretation. The Burlington Magazine, 116(852), 147–155.