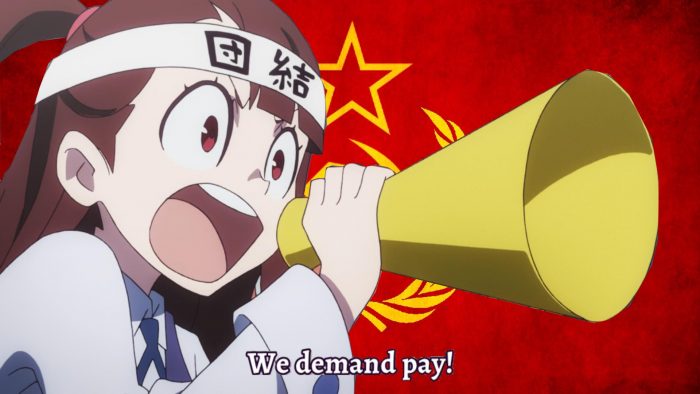 Today, we are delighted to inaugurate Vox Artes. This website comes in two parts: the blog you're reading now, and a forum—but in the largest sense of the term, all of it is a forum, woven together by the desire to breed discussion between all of us who share the following two: a love of anime, and a hatred of capitalism.
In all the debates that have been growing around otaku subculture, little has been done to connect these two; it seems to be accepted that anime is little more than part of the culture industry—not a field of struggle or an area of social life, but a movement by which we alienate ourselves by pretending that there is a time which is properly private, in which we can be abstracted from our material conditions. The best we can do is point out some issues with it in hopes that it can better fulfill this alienating purpose.
Vox Artes is born from the contrary belief: that our love of anime has everything to do with our hatred of capitalism; that fundamentally, what we love in it is its capacity for a kind of awakening, that we look to it for pictures of individual struggle or fulfillment that push us to do better in this world—that there very much is a utopian potential in it. Our wish, then, is to discuss perspectives that can activate these desires; provide the kind of criticism that energizes us, and pushes us to finally release "the spectre of a world which could be free".
The goal is not to ignore all the difficulties—the appeal fascists have found in anime, the casual sexism we see each season—but on the contrary confront these contradictions head on, just as any anti-capitalist worldview must. Today, although there are plenty of interesting discourses growing around anime, they're all separated. We believe that, to theorize a type of revolutionary criticism adapted to anime, we must discuss all of these together and eventually recontextualize them; in the final hope of developing a new form of anime criticism, one which sees eye-to-eye with our social totality.
If these remarks seem vague, it is because they are purposely so. It would be preposterous to begin with a manifesto for a definitive Marxist approach to anime analysis; all we can do, for now, is look around us and reckon with the size of the task at hand. What we will find out on our journey, we don't know ourselves; but, by presenting in such a way, we want to emphasize the collective character of our endeavor.
Small as the scale of anime analysis may be in the face of society's humongous issues, we too are, in our own little way, fighting for another world—together.