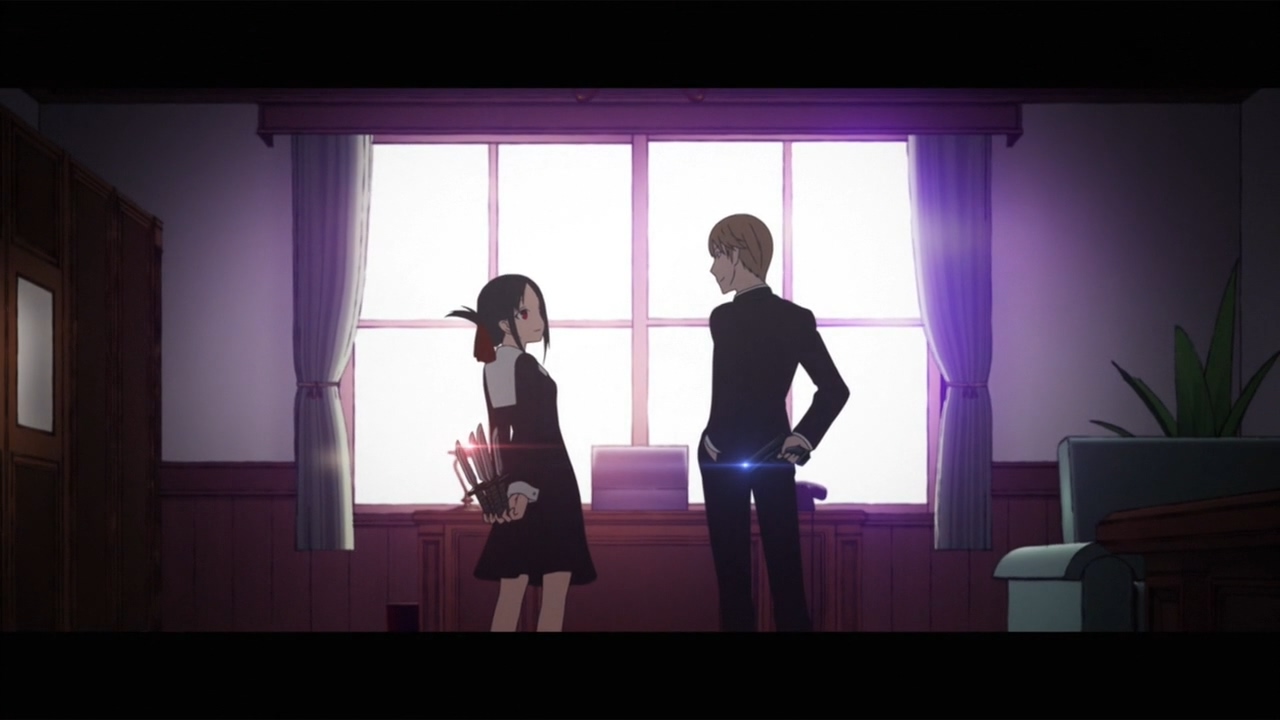 NOTE: I would like to thank Pause & Select's Joe (channel writer and voice) for offering his editing services; it's a great honor! This article was finished (and rendered much more legible than it originally was) with his help, as will all my future ones.
---
Kaguya-sama wa kokurasetai: tensai-tachi no ren'ai zunō-sen / Kaguya-sama: Love Is War (hereafter Kaguya-sama) is the Winter 2019, A-1 Pictures' adaptation of a manga of the same name. In a Japan which has barely abolished the aristocratic class system, the son of a working-class family, Shirogane Miyuki, has risen to become the student council president of Japan's most elite high school, Shūchi-in. Standing by his side as vice-president is Shinomiya Kaguya, the daughter of one of Japan's richest and most powerful families. The pride of he who has made it so far all on his own against the pride of she who was born with everything―in love as they may be, their respective class positions makes them strictly reject the idea of confessing to the other, giving way to comedic battles of wit in which they try to push the other to admit their feelings. Given their genius, they should resolve the issue swiftly enough, but they are often interrupted not only by their pride, but also by the student council accountant Fujiwara Chika, who fails to realize the battle her two friends are fighting.
And thus the stage is set: the problems of class (and the subjectivities that come with it) as well as romance in such a class-competitive paradigm will be our two main subjects. In the first moment, I will discuss how the show's vision of class is grounded in Japanese history, notably the moment of transition to capitalism. Expanding on this base, we will in the second moment examine the love game's two main terms (Shirogane and Shinomiya) as ideologemes (in the simplest terms, the smallest unit of class discourse in a narrative) and what vision of romance their interactions build. This will lead us to more general considerations about the utopian projections of romance in contemporary culture; specifically, I would like to show how Kaguya-sama renews the romantic mode to stage a resolution to the conflict between Japan's transition to neoliberalism in a cultural landscape which retains strong aristocratic aspects.
Becoming-nobility, becoming-bourgeoisie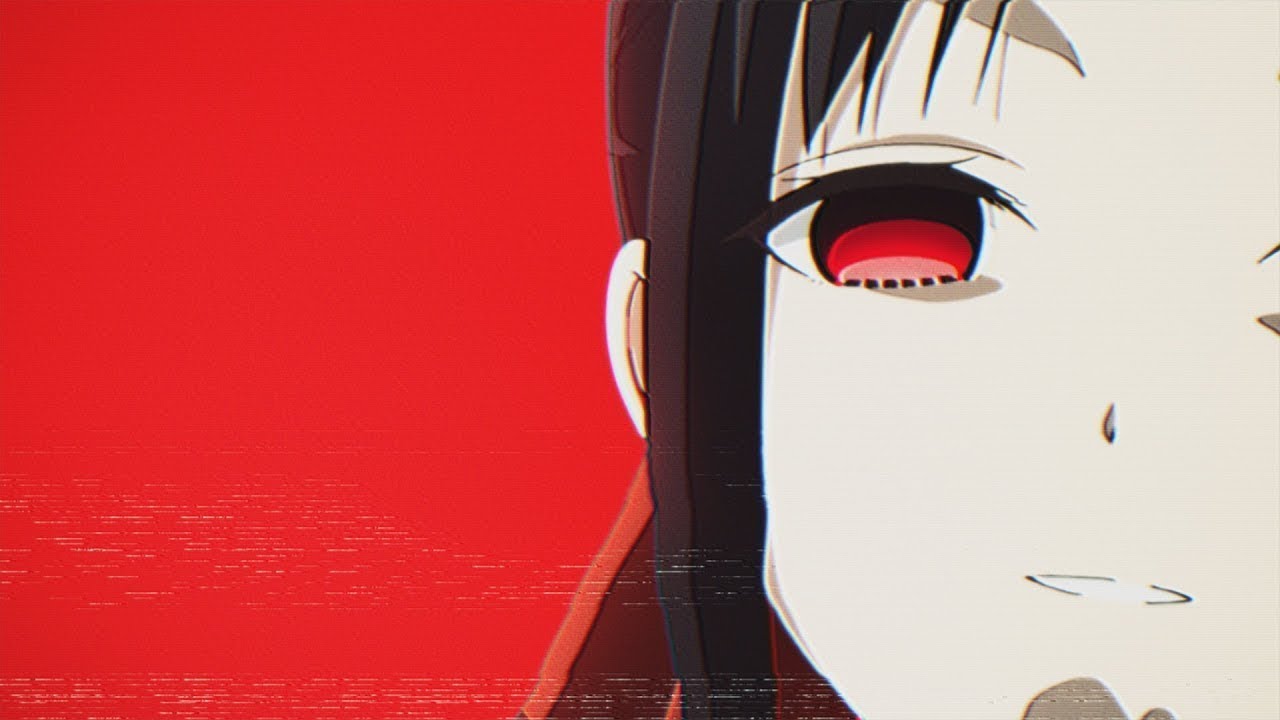 Kaguya-sama opens with an exemplary display of cynical reason. A narrator presents us with an implacable truth: love's wonders are but sweet talk, rhetoric sold to unknowing souls; the lived reality of it is competition, slave-master relationships, and an endless fight for domination. Love is war indeed, and the absolute rule is made clear: the one who falls in love is the one who loses. After all, how can one compete if they are in love?
The voice is omniscient, but at this point only insofar as its speech mirrors the characters' beliefs: Shirogane and Kaguya are both convinced that they must protect their status and image, thus starting this whole affair. Another commonality between them is the extent to which they police themselves: often the show will use a very telling video tape effect over their fantasies of failure, which reinforces the idea that they are screening the film of their failure in their mind. This turns the viewer's mind to the issues those characters face within themselves, and of how protecting their rank involves such a strong pressure that they can never dare tempt fate.
Because, same though their beliefs are, its sources are different for each of them. For Kaguya, it is merely that confessing to a man lacking in rank is a matter of some shame; given her immense riches, he should kneel before her and ask her to let him into the family. Throughout the show (apart from one nightmare involving her flatness) she never fears denial. See how she imagines sending a follow request to Shirogane's Twitter account: he makes fun of her for being so desperate to learn more about him, but still lets her in. She never fears any practical consequence; she fears failing to play the role assigned to her by her birth. This is a stark contrast with Shirogane's fantasies: the famous line he imagines Kaguya saying, "How cute" (okawaii koto), is essentially one of denial, of his desires being so ridiculous that they only deserve mockery; that, in fact, rejection is so obvious it need not be spelled out.
It is this basic difference which is deeply related to Kaguya-sama's alternative setting, where the nobility system has just been abolished. Kaguya herself exemplifies such a society's highest class: she is the eldest daughter of one of Japan's top four zaibatsu, business families prominent in the Meiji restoration. Here is a rather obvious allusion to the period, where in fact four families had something of a stronghold over the economy ("Zaibatsu," n.d.); already this grounds the show in the reality of that time (or at least the retrospective fantasy of it), where capitalism was developing on the grounds of a feudal society with which it needed to negotiate, notably in the country where feudal lords still owned much of the land (Walker, 2016) (and we know that the Shinomiya family's main home is in Kyoto, the old capital).
Envisioned here is a Japan till not quite overcoming its feudal pasts, with an elite still largely defined by blood rather than work or achievement: this is reflected in Shūchi-in's own caste system, divided by the students' births, where the top group is called 'special rank' (tokken dankyū). This is a remnant of an older system organized around blood. This also justifies Shirogane's own fears of rejection: he is a parvenu, someone who made it to the top against the system; but that means he knows he'll never quite be one of them, and that his position is always precarious, in danger of being taken away. In this sphere, he must always work for acceptance. But what he announces, then, is that history is being set in motion, that the aristocracy cannot remain untroubled in its own world for much longer, and here the Meiji past rejoins the contemporary situation.
Thus Kaguya-sama is set in a time of transition, which must resolve an antinomy between the irresistible rise of bourgeois subjectivity and the persistence of the old order. At this point we must remember that the show is titled Kaguya-sama wa Kokurasetai, literally meaning "Kaguya wants to make (him) confess"; that it ends on Kaguya claiming she will 'definitely' make him say 'I love you'; and that in the show, her home is the second most depicted space, behind only Shūchi-in itself. Overall, it is very much on her inner life that the narrative focuses. Thus, Kaguya-sama is very much about the old aristocracy attempting to resolve its conflict with the rising class (which perhaps explains why the feminine half of the main pair is also its aristocratic one, seeing as women are typically represented as more emotional); but more importantly for us, it requires a proper understanding of this show's take on the romantic paradigm, which attempts to resolve the class contradiction in the same movement that it projects a Utopian wish-fulfillment into said paradigm.
Romance in bourgeois society
I would like to start with the scene in episode four in which the Shūchi-in student body meets a French school. This is of striking interest because of the long-standing Japanese interest in French culture, which has notably focused on romanticism. There is evidently a retrospective distortion of the reasons behind this interest: here French culture is comedically seen as that which befits the nobility, in spite of its sheer lack of practical interest (it is telling that Shirogane doesn't speak it)―France has been rewritten as the aristocratic country par excellence. Nevertheless, it is interesting for our purposes here, since this obsession was born in the Meiji era (Bei, 2005, pp. 80–92), at the time that the transition to capitalism began. While it has come to be seen as an aristocratic paradigm, it is in fact that of a society moving between two realms: feudalism and capitalism.
Yamada Toyoko (2015) teaches us that the first Meiji-era artists who were attracted to France were those who, in the early twentieth century, looked to renew the language and had been electrified by the freedom of feeling expressed in nineteenth century French literature:
Yamada offers a new perspective by taking as her starting point the renewal of poetic language which precipitates the confrontation with a symbolist aesthetic: it is the capacity of language to transform subjective reality, rather than to transcribe it, which is then in question.

To these Japanese writers, fin-de-siècle French literature is the repository of aspirations to fully and freely live passions and desires, as well as promises of a poetic re-enchantment of urban space, through the seduction which Paris never ceases to exercise. (Lavelle, 2017)
What appears here (and becomes very visible in e.g. Nagai Kafū's taste for writing stormy tales of sensuality) is that Japanese writers were wrestling with a yet foreign revolution (modernization), which required a stylistic response. In search of it, they turned to precisely the literary mode which was so characteristic of post-1789 France: a nakedness of sentiment, rich sensual evocations. This so-called romantic mode was not a simple matter of chance. Rather, it was an attempt to negotiate the rising bourgeois vision of rationality with still aristocratic aspirations and a hatred of negotiation and calculation.
In fact, there is, among the greatest classics of this period, a novel which stages a romance strikingly similar to Kaguya-sama's: Stendhal's The Red and the Black (2013), an 1830 novel which depicts an uncannily reminiscent love game. In it, Julien Sorel, the ambitious son of a countryside bourgeois, attempts to seduce a young noblewoman, Madame de Rénal, in hopes of rising through the ranks of society. Just like in Kaguya-sama, the two fall irreversibly in love. In the famous final lines, before Sorel is guillotined, he realizes that he was in love with de Rénal, concluding the novel on what one would characterize as a celebration of genuine love. As literary theorist Auerbach has shown (2013, Chapter In The Hôtel de la Mole), Stendhal very much detested those new bourgeois values, and had aristocratic aspirations (notably, to the freedom of feeling then still associated with professional idleness); but he was also a contributor to the then-rising science of psychology (2014), which Jameson has argued to be a rationalized version of the magical paradigm of the original romances (2007, p. 120). In this perspective, we may quote Jameson's account of Northrop Frye's description of romance:
Romance is for Frye a wish-fulfillment or Utopian fantasy which aims at the transfiguration of the world of everyday life in such a way as to restore the conditions of some lost Eden, or to anticipate a future realm from which the old mortality and imperfections will have been effaced. (2007, p. 97)
However, there is no Eden anymore, and love, the immediacy of feeling, sensation itself, become the only means by which such non-transcendental 'heights' can be reached (Richard, 1990). Here I would like to recall Lucien Goldmann's characterization of Le Rouge et le Noir's conclusion:
The novelist's irony is directed, according to Lukács, not only at the hero whose demonic character he knows, but also at the abstract and thus insufficient and degraded character of his own consciousness. This is why the history of the degraded search, demonic or idolatrous, always remains the only possibility of expressing essential truths.

The final conversion of Don Quixote or Julien Sorel is not […] an access to authenticity or vertical transcendence, but merely the realization of vanity, of the degraded character not only of the previous search, but also of all hope, of all possible search. (1995, pp. 31–32)
And here what was once a celebration of love is swiftly rewritten as a failed symbolic (or purely literary) resolution to the real-world issue of degraded subjectivity rising within bourgeois society. My understanding however is that it is not quite as straightforwardly ironic as Goldmann posits, but rather a perfectly honest depiction of the fundamental Stendhalian conflict we have described above: bourgeois reason and aristocratic feeling are locked in a battle which love alone can resolve; but love itself is transient, it is no religious salvation, it can only sublimate the existing order, bring it to a higher plane of harmony; and even then, often for a brief moment, hence the eventual irony of failure.
This conflict is strikingly similar to the one in Kaguya-sama. Here too, only romance can sublimate the opposition between classes. However, in our case, it is the aristocratic position which is emphasized; it is this class which must resolve its conflict. Its once stable hegemony is being threatened, and only loving the enemy can (symbolically) resolve this conflict. I posit that Kaguya-sama is defined by an envy for the bourgeoisie (or the 'busy' classes in general which Shirogane is a contemporary representative of) as a symbol of freedom. Following Deleuze & Guattari (1980), capitalism is an 'axiomatic' system: "axioms […] are operational; they do not offer anything for commentary or exegesis, but rather are merely a set of rules to be put into effect." (Jameson, 2010, p. 186). This is to say that capitalism only posits economic effectiveness and (ideally) requires nothing else to function, unlike the old system from which Kaguya has emerged, which required many oppressive codes (the 'code' being opposed to the axiom as precisely this type of pre-capitalist, extra-economic justification for a social order); the axiom is the banking system, that which must flow through the world by whatever means. In such a worldview, the bourgeoisie is the ultimate 'decoder' class, which aims in its revolutionary moment to undo all existing codes to replace them with one universalizing axiom (this is very much simplifying the matter as the codes of old―patriarchy especially―actually do remain, but we have no room to specify this here). Shirogane is the most contemporary avatar of such a movement: his very 'fluid' existence, which flows from place to place, is deeply enviable for someone who can only observe such a mobile life from behind a window.
Kaguya certainly enjoys her position, but she wants the warmth of Shirogane's family (I suspect befriending his little sister is much more than mere strategy, or at least will be transformed into something more); she wants to eat a cheap bento sometimes. And thus precarity is rewritten as freedom, inevitably: the self-made man is not only he who is valorous, but also who can navigate between realms, bound by no code, a pure entanglement of fluxes coming through him from all directions. It is this which Kaguya wants to move within. This is what lurks in the background of Shirogane's emphasis on his personal values: this individualism is itself crucial to a contemporary rewriting of the romantic paradigm, exemplified by the trope of lovers driving into the horizon; thus, Kaguya's quest is indeed a quest to conquer a passion that is only hers and not defined by her blood.
Romance is the point where one melts into sheer fluidity; it is a graceful fall, a Kierkegaardian leap of faith, in which truth and experience become inextricably intertwined, in which experience becomes truth. That Kaguya-sama's initial conflict would require such a closure makes sense: love is the only event which can sublimate the cold bourgeois spirit of calculation, and in the same movement, it can move the hypostasized aristocratic soul beyond itself, to the place where both can meet and reconcile, becoming this twin-headed machine working toward the same aspiration. It is a perfect harmony of multiple oneness.
This generic perspective also has the advantage of helping us understand the importance of the show's crucial third term, Chika Fujiwara. Here we come to another understanding of romance crucial to Jameson's theory, that of Vladimir Propp (with the help of Arthur Danto), which theorizes the centrality of a donor figure to its narrative model:
The center of gravity of the narrated events lies not in the fact of the change, but in the explanation of the change, in the middle term which modulates from one state to the other (and Danto explicitly assimilates this to the dialectical process. In this light it becomes clear what is lacking in the abstract schema of the folk-tale which we have given: the donor. The donor is therefore the element which explains the change described in the story, that which supplies a sufficiently asymmetrical force to make it interesting to tell, and which is therefore somehow responsible for the "storiness" of the story in the first place. Thus, the satisfaction and the completeness of the tale comes not from the fact that the hero manages to rescue the princess in the end, but rather from the means or agent given him to do so (a bird who tells him the right word to say to the witch, a magic cloak that lifts him to the tower, and so forth). This is to say something a little more than what interests us in a story is the how rather than the what: what Propp's discovery implies is that every How (the magical agent) always conceals a Who (the donor), that somewhere hidden in the very structure of the story itself stands the human figure of a mediator, even in those more sophisticated forms in which he is concealed beneath more rational motivation.

We may restate the necessity for the existence of a donor in yet another way by pointing out the fact that in the beginning the hero is never strong enough to conquer by himself. He suffers from some initial lack of being: either he is simply not strong enough or not courageous enough, or else he is too naïve to know what to do with his strength. The donor is the complement, the reverse, of this basic ontological weakness. (Jameson, 1972, pp. 67–68)
Chika is very much a donor. She is the daughter of a family of LDP politicians, who has access to Kaguya's world (she speaks French), while having that freedom of feeling now placed on the bourgeois (which I surmise explains the difference in breast size, as if the Shinomiya family forbade them from growing); often she disturbs Kaguya's plans with her spontaneity, but she is also seen saying (chinchin) and doing (eating ramen) things that Kaguya would never afford herself. While she is too integrated into the system to represent any kind of disruption today, she is most definitely what Kaguya is not, and exemplifies the kind of honesty from which our heroine must learn if she is to make her leap of faith.
At last, we can map out Kaguya-sama's basic schema:

Conclusion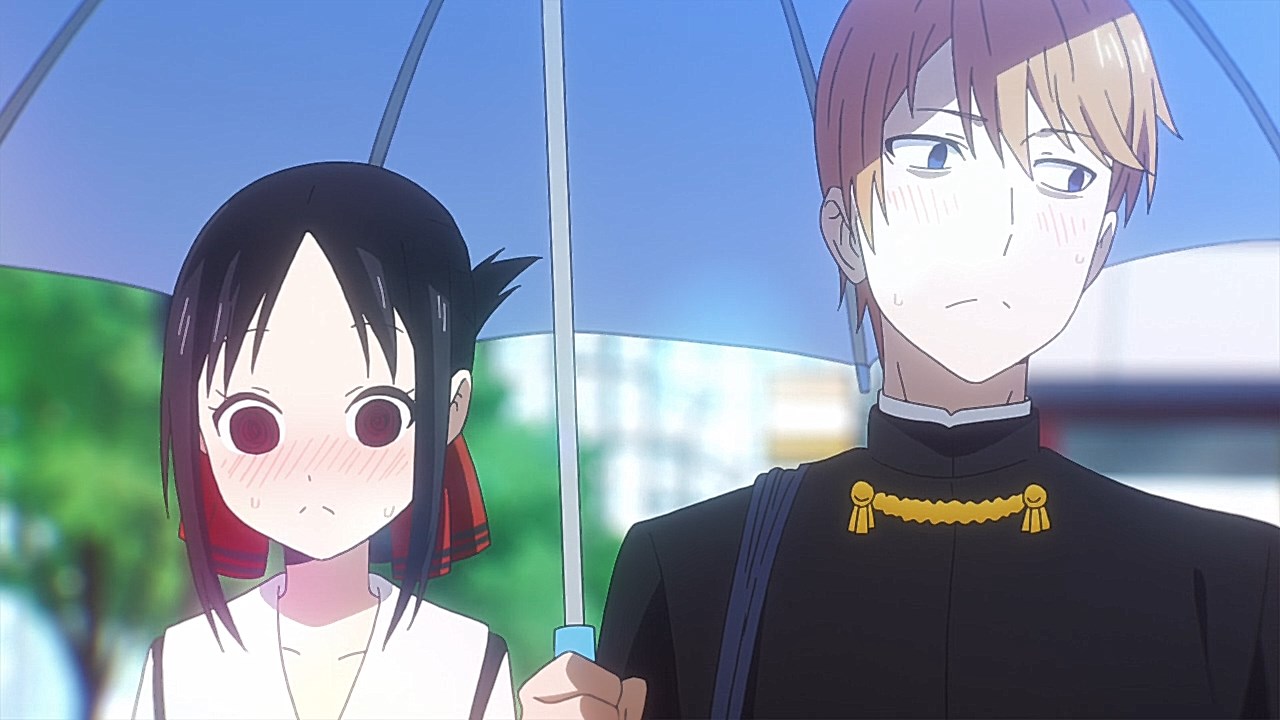 So, in the end, love proves the only event capable of synthetizing opposition, while at the same its emergence helps transcend all oppressive codes, rewriting them all as sheer desire. There is, of course, no revolutionary perspective to this: after the explosion of love, we must ask: what happens? Well, life is restored on a higher plane of harmony, but business will surely continue as usual. Nevertheless, one can see here that Kaguya-sama is profoundly determined by a contemporary emphasis on feeling and freedom. Shirogane is knocking on the door of hegemony: only if one transcends such calculating operations into romance, change can be embraced, and Shinomiya and Shirogane can come together, fall to the same level. Thus romance proves to be the form proper to economic transition, the only possible symbolic resolution to this basic conflict, at the same time as it is blind to the political underside of its ideals (or perhaps it turns to love precisely for its blindness).
If we take a step back, this only becomes clearer: the narration is ridiculous, and if we follow it, our two protagonists should have long noticed what it is the other is trying to do. My impression is, in fact, that Kaguya-sama's comedy the twist it must bring to the romantic mode if it is to adapt the latter to its content: a new movement in terms of rationalization (the narrative, of course, likes to mention psychology and Freud is even namedropped), where the truth is always present, where it is in fact obvious and perfectly logical. But while the show mocks its characters for their blindness, it is also sympathetic to it, at which point it resists rationalization and embraces feeling: it is precisely from this silly blindness that romance can emerge as a truth-event.
And finally, a sort of ideological essence comes into sight: while romance alone can resolve the conflicts emerging within the comedy, it is the latter's cyclical temporality (as a repetition of gags) that foregrounds a re-establishment of the existing order on this higher plane (love, as we had described above, is a temporary symbolic resolution which fails to reverse the order to which is then implicitly favorable). But it is also this which makes Kaguya-sama so special: is it not quite astonishing when, at the end of a ridiculous gag where Shirogane gets insulted by a French woman, the narration concludes: Shirogane and Kaguya are both today's winners, because they have shown each other a weakness of theirs? That this would emerge from a narration which often exaggerates fear of this (of having one's weakness caught, supposedly for later extortion and the like) says everything that needs to be said about Kaguya-sama as a perfect balancing of those two moods.
And so it turns out that in the end, Kaguya-sama is not merely a tale of transition. More than that, it is an attempt at resolving an antinomy between its form, inherited from older traditions, and its contemporary content, which such forms are unfit to express. In its navigating between the Utopia of the romantic mode and a content defined by reification, its inability to quite decide between the two, it is at once the quintessential romance, and a meaningful contemporary transformation of it.
Bibliography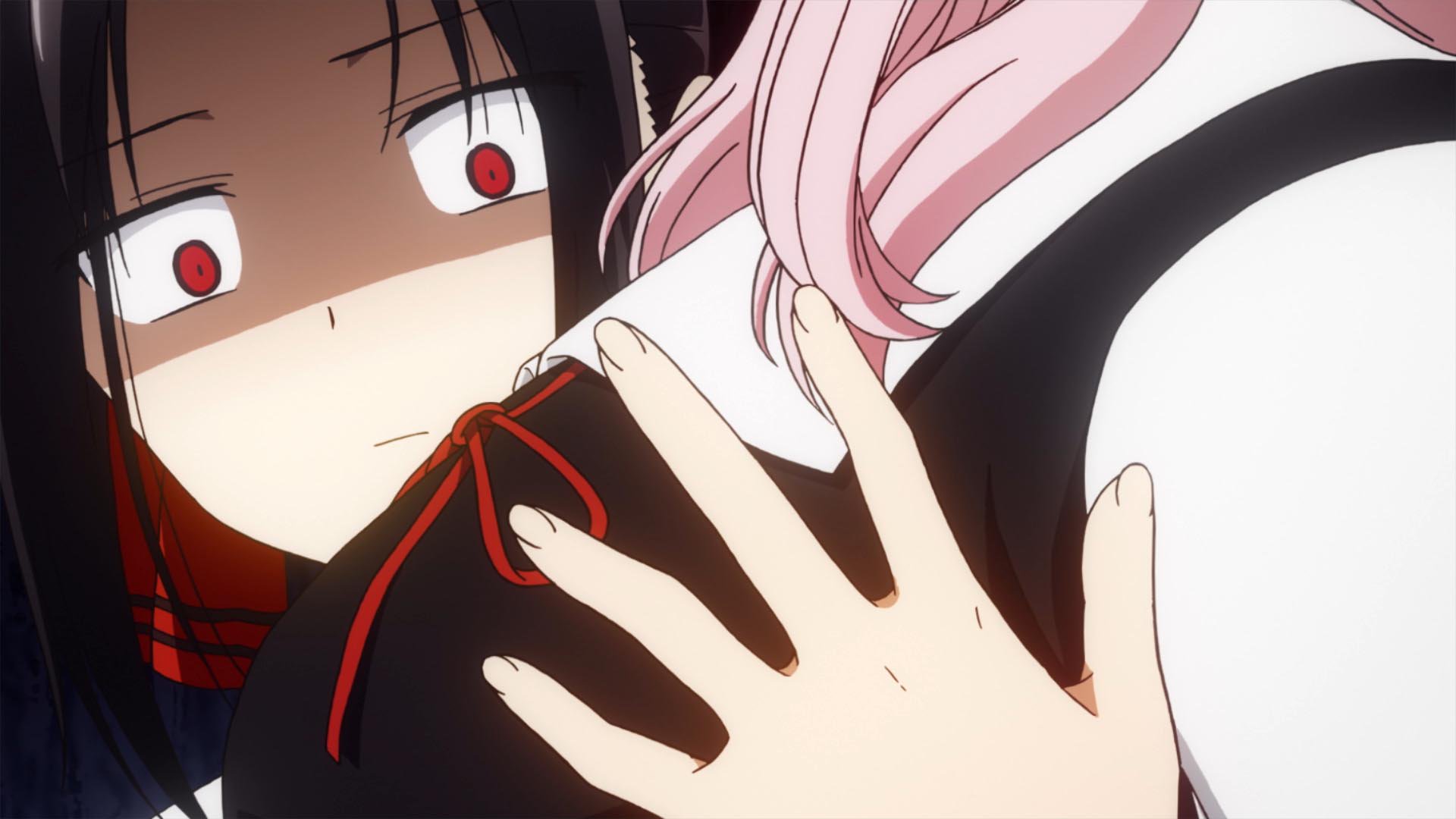 Auerbach, E., & Trask, W. R. (2013). Mimesis: the representation of reality in Western literature (1st Princeton Classics ed., 50th anniversary ed). Princeton ; Oxford: Princeton University Press.
Bei, Z. (Ed.). (2005). L'aventure des lettres françaises en extrême Asie: Chine, Corée, Japon, Vietnam ; actes du colloque tenu à la BnF les 18 et 19 mars 2004 ; [Colloque International Portant sur l'Influence de la Littérature Française dans l'Émergence de la Littérature Moderne des Pays de l'Extrême Asie: Chine, Corée, Japon et Vietnam]. Paris: You-Feng.
Deleuze, G., & Guattari, F. (1980). Mille plateaux. Paris: Éditions de minuit.
Goldmann, L. (1995). Pour une sociologie du roman (Repr). Paris: Gallimard.
Jameson, F. (1972). The prison-house of language: a critical account of structuralism and Russian formalism. Princeton, N.J: Princeton University Press.
Jameson, F. (2007). The political unconscious: narrative as a socially symbolic act. London: Routledge.
Jameson, F. (2010). Deleuze and Dualism. In Valences of the Dialectic (pp. 181–200). London ; Brooklyn, NY: Verso.
Lavelle, I. (2017). Yamada Toyoko 山田登世子, « Furansu kabure » no tanjō — Myōjō no jidai 「フランスかぶれ」の誕生。「明星」の時代 (Naissance de la « fièvre francophile ». L'époque de Myōjō, 1900-1927). Tokyo, Fujiwara shoten 藤原書店, 2015, 271 p. Ebisu. Études japonaises, (54), 277–281.
Richard, J.-P. (1990). Littérature et sensation: Stendhal, Flaubert. Paris: Éd. du Seuil.
Stendhal. (2013). Le rouge et le noir. Paris: Flammarion.
Stendhal. (2014). De l'amour. Paris: Flammarion.
Walker, G. (2016). The sublime perversion of capital: Marxist theory and the politics of history in modern Japan. Durham: Duke University Press.
Yamada, T. (2015). "Furansu kabure" no tanjō: "Myōjō" no jidai 1900-1927 (Shohan). Tōkyō-to Shinjuku-ku: Fujiwara Shoten.
Zaibatsu. (n.d.). In Britannica Academic.