Intro
If "political commentary" on art is to be a method, it has to be capable of detecting traces of the ideological even in the most apparently apolitical kinds of narrative. This is, of course, what I'd been doing in my previous articles, where I'd discussed how works like K-On! entered in resonance with the historical moments out of which they were necessarily born, creating what I'd described as a utopian effect: a wish-fulfillment which provides a symbolic resolution to a historical issue.
Such an interpretation tells us that the "political" in art is not quite a formal characteristic so much as a reaffirmation of history as necessity, something all narratives have a relation to in some form, even if it is by way of a distant allegory, as was the case of those shows I'd discussed in the past. But that only makes ideology all the more inevitable; and as a result, it must be that this political principle exists all the same in those works which have some political content.
This is why, despite writing about Carole & Tuesday (hereafter C&T), I will consciously "bracket" its many political statements in order to focus on something quite different. Namely, I will discuss how, in order to convey its (political) message in a convincing manner, C&T needs to first provide an interpretation the present situation and its problems, which it does via a specific selection of social materials and narratives, and which ultimately determine how it may influence its viewership's politics. This is not to say that this interpretation works against its message, but rather that it provides the framework in which said message can be conveyed, one which determines C&T's position in the "history of the present" even more than its political content, and which as such is the key to an appreciation that is both political and historical.
This will not be a very detailed exposition, and all of the below could be refined greatly with a more attentive discussion of the story's structure and progression; due to lack of time and space, I will limit my work to the show's largest units. Still, I hope that by the end I will have managed to exhibit the sympathetic but critical reading that I think Carole & Tuesday invites and requires. I will begin by commenting on the show's genre and its setting, before moving to its main characters and the positions which they symbolize; after which I will give a reading of the function of music, before finishing on what the finale conveys.
I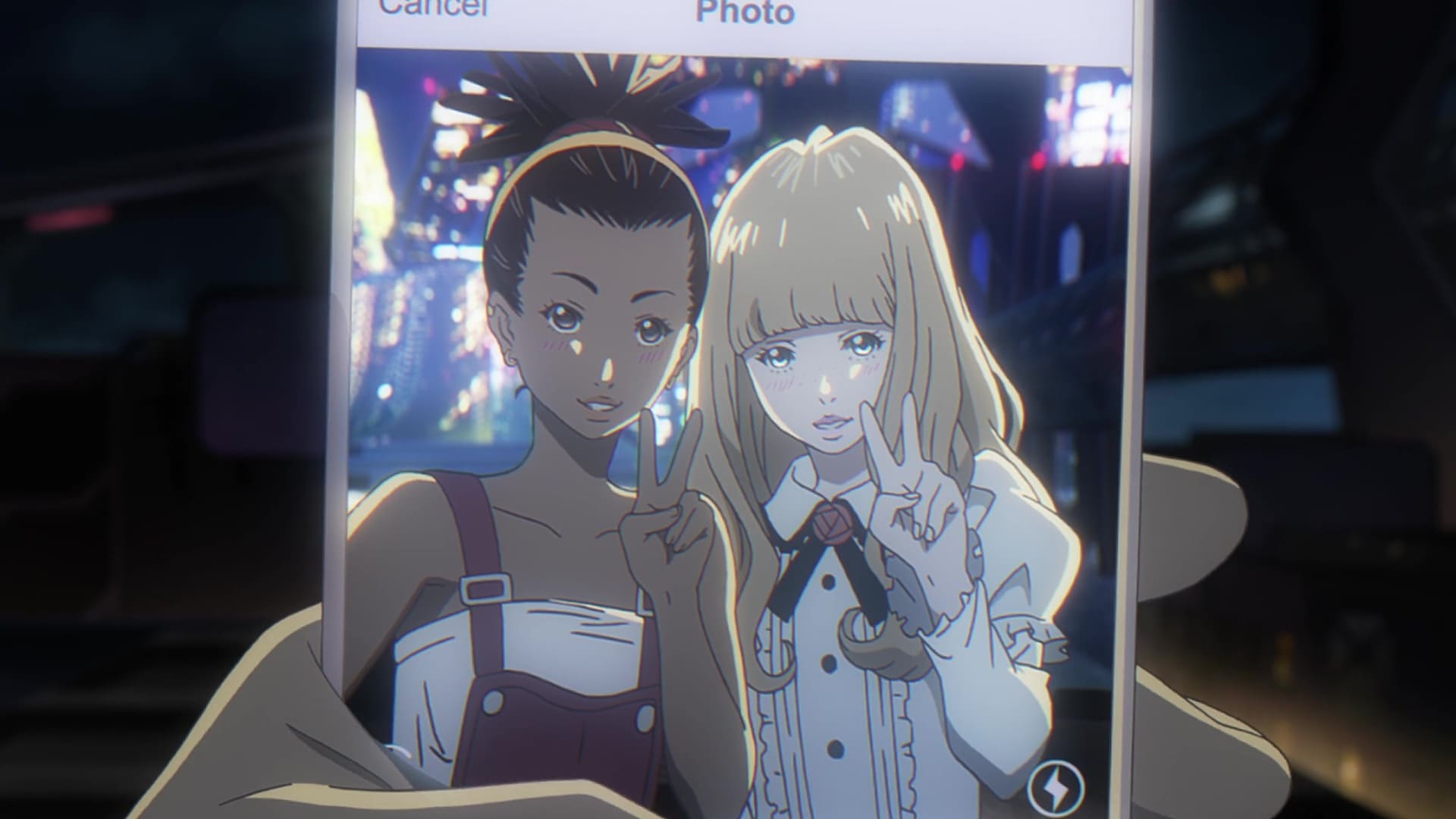 1
Let's start in a formalist manner, by considering what kind of genres, or rather narratives, C&T inscribes itself in.
First of all, being an anime, C&T must, in some manner, exist within one of the medium's genres. Watching the first part especially, it seems to me that C&T has much to do with what we usually call "slice of life" (in a wide sense). For much of the story, the main characters are kept behind a "veil of ignorance" as to Mars' political situation, which only progressively reveals itself. The only connections Carole and Tuesday have to politics for a long while are purely individual: Carole is a migrant (which of course has entirely collective sources, but these are hardly discussed until Ezekiel goes under the spotlight), and Tuesday's mother is a politician. In fact, the whole story begins with Tuesday running away from home to live out her dream of becoming a musician in the Martian capital, Alba City. It seems telling that the show begins with Tuesday and her personal quest: she comes from a position of privilege, as a kind but somewhat sheltered person who has little awareness of what someone like her mother is doing. If we imagine C&T's goal to be the politicization of its audience, then the move makes sense: we start within a little world whose Tuesday's encounter with Carole and their collective growth work to expand, until the global situation which was once invisible eventually comes into view. The positive role attributed to Carole and Tuesday's apartment, as a place in which their creativity can bloom, is also faithful to our generic expectations about a slice of life and its tendency to value such intimate spaces.
Structurally, C&T is a surprisingly simple show: there are almost no significant flashbacks (and the most memorable one doesn't concern life on Mars), and relatively few scenes which do not feature either Carole or Tuesday. On the one hand, this fits with the interpretation that the narrative wants to show a season in its heroines' lives; on the other hand, this is much simpler than the usual "slice of life" structure, which makes regular use of flashbacks. But such a structure orientates the narrative toward the recovery of a lost value, feeling, memory, etc., and is incompatible with C&T's double mission, which is to stick close to its characters while ultimately conveying a social message, i.e. marching toward the future. C&T's structure should then perhaps be interpreted as a manner of creating a sense of temporal unity between the narrative and its characters' lives: by tapping into the emotional effectiveness of a slice of life for a public who is used to its codes and sensitive to them, it brings us to care for the two heroines, and by sticking close to them, we begin to see the political troubles facing Mars at the same time as they do, which (hopefully) smoothly brings the audience to share Carole and Tuesday's concerns, given our sense of proximity with them.
In other words, the show's initial commitment to the "slice of life" can be read as functioning to interpellate an audience sensitive to anime's depictions of daily life as to the validity of its political message. However, if it is to tell that very message, it must also include a properly social narrative, which is best exemplified by its setting.
2
C&T's terraformed Mars looks a lot like contemporary America. In fact, so much so that one could write a whole article simply listing all the cultural allusions. Now this resemblance may sound rather unworthy of attention, at first: America is the number one representative of everything that's wrong with the world, and everyone knows that, so that makes it the best pick to talk about contemporary politics.
However, as I mentioned above, what we're dealing with here are narratives. This means that Mars, in this interpretation, is not a an "object" which "represents" an "objective" state of affairs, but rather a narrative about that state of affairs; or, better still, a set of narratives which it attempts to reconcile. In fact, Mars is a concentrate of two opposing narratives about America: on the one hand, the one about the growth of racial violence and the rise of reactionary politics, the "social material" so to speak; on the other, the more properly narrative aspect, which turns on the multicultural and multiethnic qualities which are America's ostensible ideals. So, in a more global framework, Mars is a signifier which brings together the contradictory qualities of the imperialist core, its ideals and its current reality; and the Sci-Fi setting is there to permit this clash, as well as gesture toward its possible resolution by a projection into a possible future. The best way of understanding this two-faced setting is that the social material (the violence) must be narrativized if it is to function as part of a story with a conclusion and all that; and the narrative selected for this role is that of the multicultural ideals. It's hard to doubt that, as a result, C&T is no bearer of some radically alternate view of American modernity and its possibilities; but the fact that it feels compelled to project this reconciliation into a whole alternate future set in another planet is telling as to how the deep the required renewal is felt to be.
Importantly, the narrative about the First World's ideals comes to us as an expansion of the original slice of life frame, rather than a break from it: Carole and Tuesday meet Gus' ex who is now married to another woman, Carole reunites with Ezekiel, her childhood friend back on Earth, Tuesday falls for a journalist investigating her mother, they meet a fallen songstress who was crushed by the industry… it is them who learn about the world, meeting all sorts of people who are not quite teachers but still fulfill roles appropriate for a bildungsroman, and we learn with them.
On the other hand, the depictions of all that's degrading about the current state of society rarely feature either of them directly: Tuesday never appears in any of Valerie's speeches, nor in the room where her mother prepares her electoral moves with Jerry; in fact, except for the short period during which she is brought back home, Tuesday's 'contacts' with Valerie are always mediated by either Kyle or her brother. Similarly, they do not witness any police arrest directly, learning about those through their television or phone screens. Social unrest seems to creep in, as a parasite to daily life and its comfort, which however must be resolved.
Further, it should be noted that Earth plays the role of the Third World here: a poor, violent society beyond what our eyes can see (or maybe what our minds can imagine), its inhabitants all keen to make it to Mars in hopes of a better life… only to be met with rampant injustice. It is given no clear-cut representation, only existing as a vague memory of desolation in some brief flashbacks.
Seeing all this, it seems that, following from the "slice of life" frame, the social narrative too is directed at a certain public; this time, a little beyond anime viewers, to the First World viewership in general. C&T is an assemblage of various cultural and political references which frame the story's events for such a viewership, and in so doing allows all of it to (hopefully) share one consistent experience of meaning. This allows the show to explore all sorts of themes, their social significance being already ensured.
–
In doing so, C&T recovers and challenges one of the conditions for the growth of the type of "everyday utopia" which is today current in anime: a relatively stable life from which political trouble can seem to have been erased, at least in its usually acknowledged forms (knowing that today, even events like losing one's job can seem apolitical). The show thus fulfills a pedagogic function, albeit not in any didactic manner: by rooting itself in an 'apolitical' genre, and progressively bringing it in tension with its social narrative, C&T attempts to progressively make an audience set up to respond to purely psychological narratives sensitive to political issues. Within the language of formalism, the social narrative can be said to exist in order to defamiliarize the slice of life narrative, thus renewing it so that it can answer a political challenge; while the investment in the lives of the characters ensures our interest in what solution C&T may birth.
It is fine to have interpreted what C&T attempts to do, and how it goes about doing its work on us; but my reading here is historical only in a very minor way. We now need to explore what it is that these two narratives mean, i.e. what kind of historical configuration they reveal in their clash with each other.
II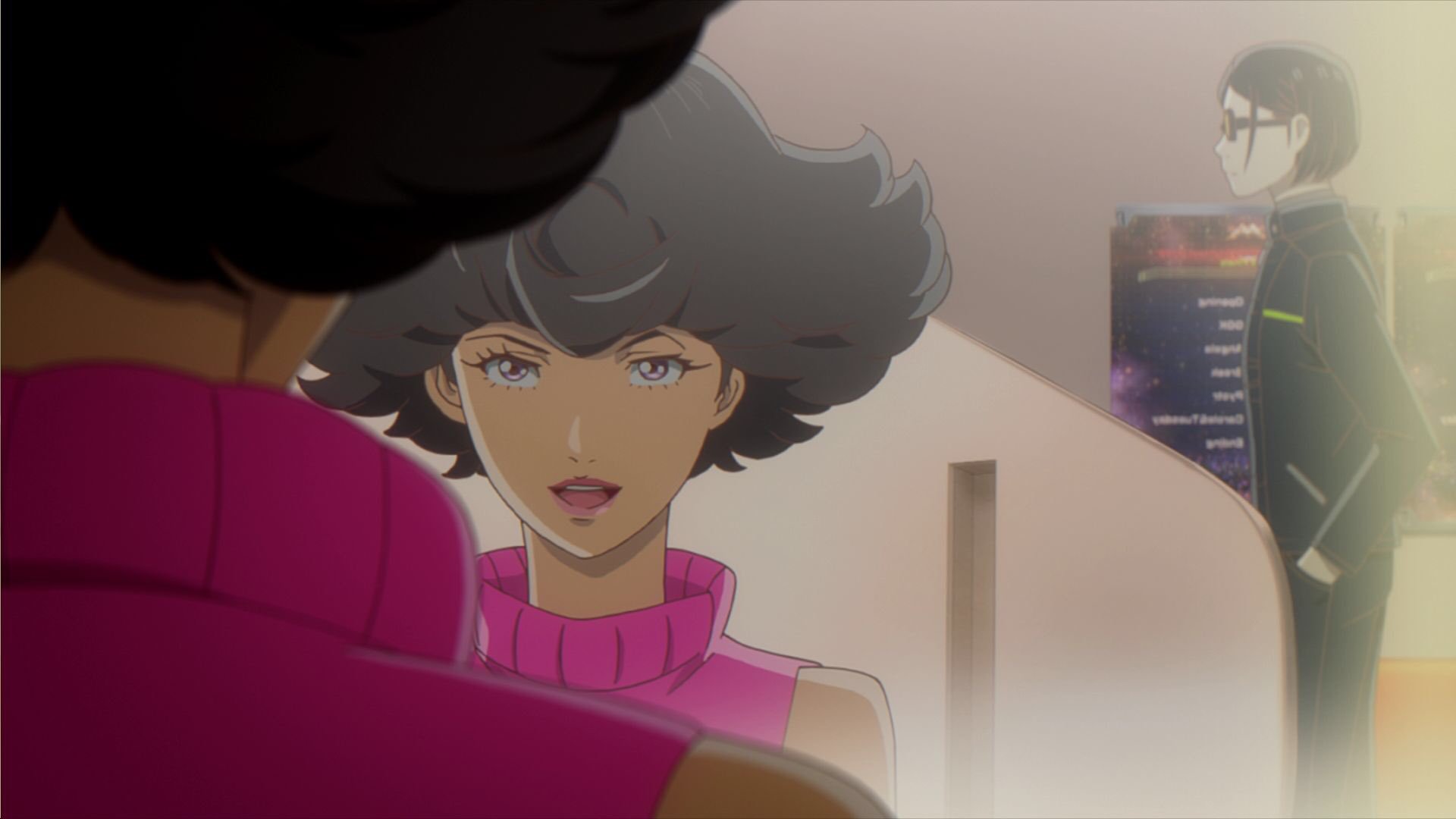 In order to do so, I'll start with how the show's main characters relate to each other, and what their relationships symbolize.
The first antagonism seems to be between Carole & Tuesday and Angela, who are opposed until the end of the Mars' Brightest arc, after which their relationship changes in nature. On the one hand, the multiethnic up-and-comers who play with nothing but a guitar, a keyboard and their voices; a blast from the past when music had a claim to "authenticity", one of the recurring keywords in the praise other musicians have for them. On the other hand, Angela is the product of a system which has replaced the nitty-gritty of manmade musical production with the cold, profit-oriented calculations of AI-generated melodies. However, this antagonism does end up shifting. As the story develops, Angela is given more screen time, and turns out to be, in her own way, a victim of the status quo, and someone in search of her humanity (just like Tao, with whom she turns out to be family). It is as if the "AI problem" had, after all, never been more than an illusion; but this does not stop Carole and Tuesday from being branded as "authentic". So, it seems that the problem has changed levels, rather than disappeared. The view of AI as generally soulless ends with the appearance of Jerry, who actively uses AI to evil ends; while Tao, who had started out with a rather cold image, reveals himself to be an earnest man, in his own peculiar way.
So, we need an interpretation that includes this shift. Based on what I've written above about the show's structure, the original antagonism between Carole, Tuesday and Angela can be understood as corresponding to the first generic framing, while the second arises as the story begins to realize its political function. If so, then AI can be read as a mediating function, one which means nothing in essence but simply happens to exist in both our everyday lives and as a tool of power; in a setting like that of C&T, AI's sheer omnipresence may give the illusion that it is the source of our troubles (the very contemporary illusion that technology is alienating us from some imaginary "authentic life"), but once we expand our view of things, we realize that it is, at worst, a tool for those who really run the show.
Still, the everyday and power remain separate realms, and we need to ask what the shared formal characteristic between the two exists that can be mediated by AI is. To answer this, we need to go back to the show's setting. It seems to me crucial that the process of terraforming Mars is entirely eluded. The temporal gap thus opened between us and the show allows the show to present the social status quo it dramatizes as somehow atemporal, without any historical causes; it is simply, always-already, here. This is, it turns out, absolutely consistent with the generic framework of the "slice of life", which always isolates a period of life (it's almost always adolescence) in order to depict the steady flow of time within it: no matter the unexpected happenings, the assurance that the same sun will rise again on the next day and that the same season will come again next year frame a real "spatialization of time", in which one has to worry not about the flow of the days, but rather about the explorations and discoveries (as well as the time in those comfortable familiar places like the clubroom) that this stable temporality enables. In those works there is nothing to be called a "social temporality"; neither is there one at the beginning of C&T, except one that slowly creeps in from the background noises of Alba City's giant screens. Which is to say that, just like this genre it takes from, C&T begins with the end of temporality: a stable everyday from which wider troubles have disappeared. And this sleight-of-hand can only be achieved under the view of social control as a totality of its own, one which makes even the past disappear in its forceful expansion (hence the sudden jump into a Martian future); this is precisely the realm into which AI can bring us, thanks to the fact that it is recent enough for its social function to be still visible to us.
In this framework, AI is little more than a convenient pick for the necessary structural feature that, while existing in our everyday lives, can eventually be revealed to be dependent on how the powers that be decide to use it. And, conversely, Carole and Tuesday's "authenticity" is the mediating function which emerges within the atemporal everyday, but inspires a resumption of temporality. It is the name of the reminder Carole and Tuesday give us of those times when we aspired to change, to a better world; this 'idealism' we'd repressed within a totalizing everyday life, but which, once recalled to our memory, begins to titillate us irrepressibly. It is the name—which we can criticize for all the rather uninteresting sentiments it can also evoke—of this remainder of Utopian desire which no system of power can ever fully shut down. Both a reminder of the distant past and future-oriented, it is inevitably diachronic. Formalistically, the musical moments punctuate episodes with different rhythms; they evoke subjects we do not hear about in other moments. But, crucially, Carole and Tuesday's manner of composing and performing is always the same throughout the show (the scenes of them composing and playing in their small apartment, which they decide to stay rooted in at the very end, are rehearsed all throughout). Although music comes to fulfill a more political function with other artists (like Ezekiel), this is a sign that our worldview is expanding; Carole and Tuesday, however, do not change much throughout, aside from maturing some: think of when they cover one of Flora's hits, thus linking a love song to her recovery from the suffering the music industry inflicted on her. In such moments, the political emerges out of the personal: Carole and Tuesday keep symbolizing that hopeful remainder that we have in us, but as their stage expands, they come to fulfill their social function, as if nothing had really changed.
–
What started out as two separate narratives have now become one: AI has politicized the everyday, and "authenticity" has come out of it to provide an answer. In the process, our narrative oppositions have shifted: from two manners of producing music (authentic vs. artificial) to an opposition between music (now allegorical of production and historicity itself) and the violent reactionary powers which are now arising.
In this sense, C&T is very much an attempt to claim social temporality back where it has evaporated at the hands of a conjuring power which has, in appearance, taken it entirely from us and hidden in its most well-guarded treasure box.
Now, this gives us a first hint as to how music in C&T functions to disturb the show's formal structure and bring it to a new kind of solution; but this does not yet tell us just what kind of historical issues music represents, a question we will now have to answer.
III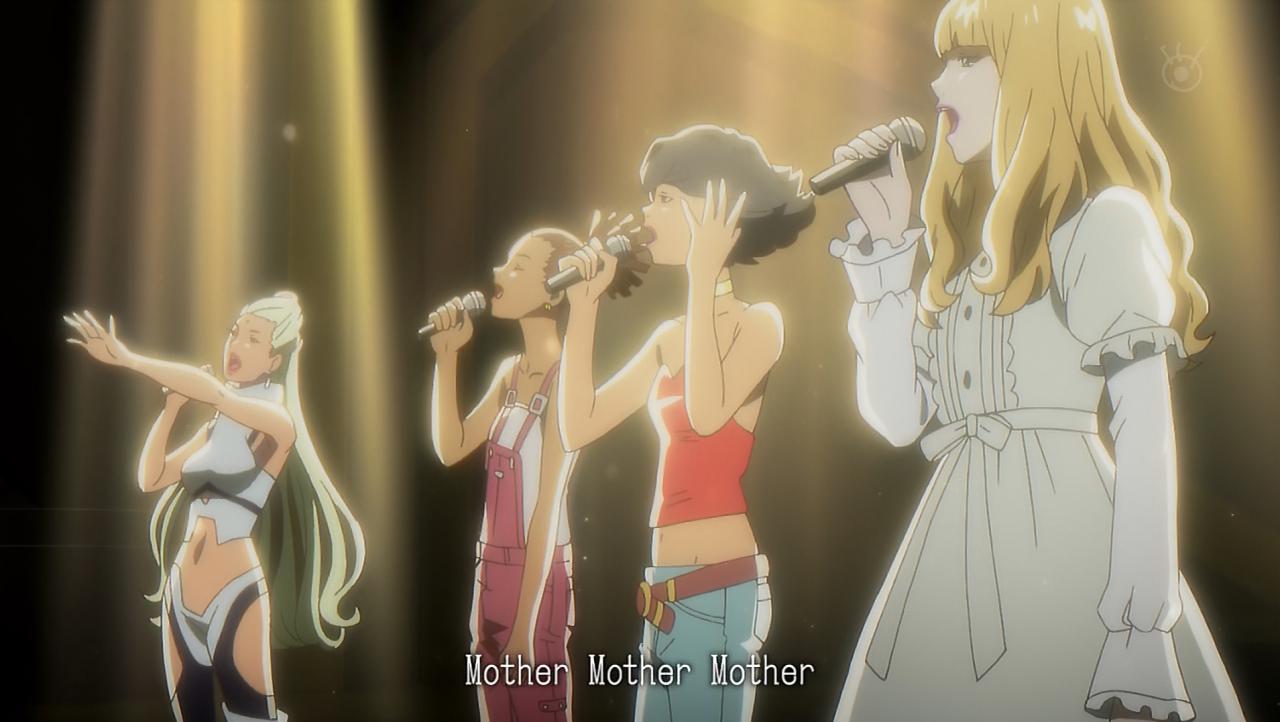 Utopia, much as the word evokes pictures of some ideal land beyond the horrors of the present, can also exist as an impulse, one that drives toward a rather more indefinite way out of the contradictions of the present. In this case, the thematic focus would be less what an ideal world looks like, and rather more how we can begin to move toward it in the first place. For C&T, this function is evidently fulfilled by music, which begs the question: what representative difficulties does it dramatize?
To answer this, we need to first establish that not any kind of music will do. The focus, all throughout, is on performance; tellingly, Gus notes at the end that Carole and Tuesday's much-awaited first record will have to be delayed, and we never see it released. Records are, after all, commodities, and as such provide no real break from the humdrum of daily life, cannot serve as the occasion of the deeper political renewal C&T seeks. If the series is one long movement toward the resumption of temporality, then a temporal form is needed that can kick it off: hence the show culminating in one big concert.
Music, further, happens to be non-representational in form, invoking emotions or sublimations which are much more abstract than those of the visual arts. And this is also crucial. For, as I see it, Carole & Tuesday is ultimately driven by the search for an Event with a capital E, a moment from which point on things cannot go back to what they previously were. Performances can be the occasion of such Events, whether they are personal such as Carole and Tuesday's first live (in tune with the intimate tone of the starting episodes), or social as with the final concert on which the series closes (and we've already seen how those two are bridged). The focus on and search for the Event is a very widespread concern today; not only in media as here, but also in theoretical production (usually associated with the name of Alain Badiou). It has its own historical logic, too: at this point we can revisit C&T's setting, which dramatizes an enormous spatial division between Earth (Third World) and Mars (First World), between which no common point seems to exist that can be represented. The Event provides a temporal compensation for that, and today is often invoked precisely against the seemingly insoluble problem of representation: in a world which is divided between the claims of an ever greater number of social groups, all spread out across the globe, it seems impossible to give a picture of some unity; however, it can, for a firework-like moment (the moment of the multitude, of hegemony, or whatever), burst into life. It is, then, that the Utopian impulse, as music embodies it, is the result of the current social state of affairs, in which the potential for change cannot be located in any single group or space (say, the factory and its workers), or even in any realistically conceivable common space; so that the world beyond the current contradictions can only be expressed as an impulse or a drive which interferes with the rhythm of contemporary life in a way that does not allow it to slip back in its old perverse ways.
It should also be noted that music is very much something one make without great means, while also being able to reach a large public (which is in line with Carole and Tuesday being the solution that emerges out of the everyday). But it also includes something I've named in passing above, "sublimation". Going back to that Desmond vs. Valerie scene, it was made clear then (and in other places) that the show's representation of reactionary politics focuses on its thoughtless violence; once again, the show doesn't (or cannot, because, at the risk of repeating myself, it begins with the totality of everyday life) include anything about the historical origins of this or that, so that we can all we can say about reactionaries is that they're violent; that'll have to do. Against that, Desmond's music was beautiful, alerting us as to the sheer violence of what was happening in front of our eyes. I use "sublimation" in the Freudian sense, for whom it essentially meant desexualization, the process of redirecting originally sexual drives toward non-sexual, socially valorized ends (art was a prime example for Freud himself). If we understand reactionaries as satisfying themselves of their own violence, enjoying it for its own sake (like Jerry, who is evidently always very happy with himself, and requires no justification for it other than his own success), then the role of music in C&T becomes all the clearer: it creates an intersubjective space in which those impulses can be washed away in favor of the moment of collective coming-together, one which is both individualizing due to the strong feelings it evokes, and 'collectivizing' in that it helps us see that the person next to us feels exactly the same (this reading is supported by the fact that policemen, whose violence is clearly represented throughout the show, still manage to share the concert in brotherhood with black prisoners; which, I will admit, disturbed me highly, but perhaps fitting for the show's relatively ahistorical understanding of social issues).
IV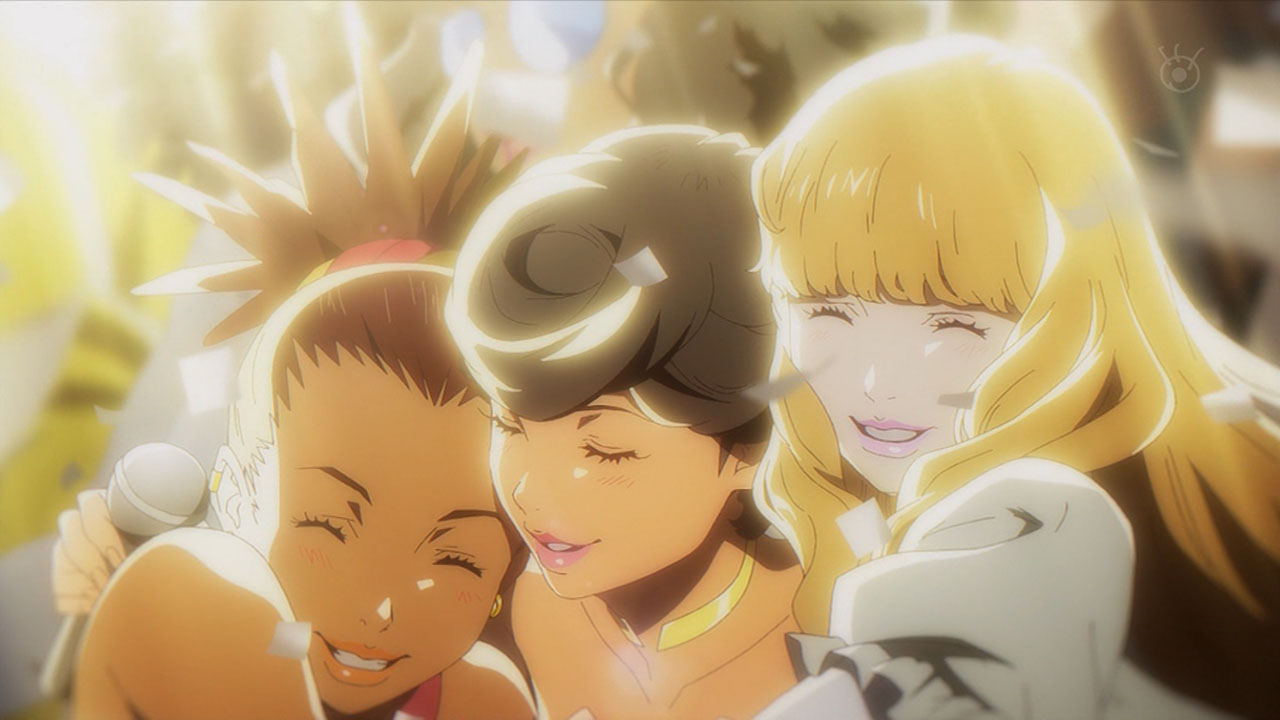 Now, this slip into the psychic may seem to weaken the show's political narrative, and it is indeed the occasion of some evidently "liberal" moments, chiefly with Valerie turning out to be a kind person who never wanted to promote the hatred she did. This revelation about her character is crucial, and gives the explanation for the show ending on such a representation of the reactionary worldview as a symptom of some more fundamentally sexual drive.
Until now, I'd simplified the schema somewhat, intimating that the social narrative and that of everyday life were very clearly separated. But obviously, given the talk of mediating functions above, that's not quite the case. If the show begins with the everyday, from which Carole and Tuesday intervene, then it also turns out that it is this very wish-fulfillment contained in anime's Utopian depictions of everyday life (the desire for a quiet life, an intimate space in which one can feel safe, etc.) is part and parcel of C&T's solution as well. And, of course, in all those Utopian narratives, gender is the essential category; specifically, the feminine (position). C&T is far from ignoring that. And, when it comes to Valerie, it is the occasion of a defining linguistic slip. As women integrate capitalism, they also internalize the bourgeois ideology of work and ambition, which comes with a good deal of repression; which turns out to be what haunts Valerie. Indeed, repression turns out to be much more crucial than, say, the fact that she's likely spent her whole career in the Martian equivalent of the Republican Party peddling racist rhetoric.
And the reason why this doesn't matter is that what the Event requires is a break with the past; it is the moment when the claims of hegemony's Others concentrate in one decisive blow from which it will never quite recover. Difference is the key word; and gender is the first category which includes such a difference, such an Other: "women are always Other, even to themselves", as Lacan might say. In other words, insofar as the masculine is the psychical structure which corresponds to the symptoms of the totality which we live in (the symbolic phallus), the feminine becomes is the potentiality which challenges it by suggesting an entirely different relation to it (and resultingly, to our symptoms). It is a kind of universal difference, impossible to define (no one knows what gender even is), but still structurally crucial to the ways we think about ourselves and others. But Valerie abandons her position as a woman, with all the potentially subversive desires that may include (not the least of which is the reaffirmation of a desire not submitted to the structures of bourgeois calculation), and attempts to "speak as a man".
Importantly, the process of revealing this is a diachronic one, as Spencer has to convince Kyle to let him talk to his mother about the terrorist attack Jerry had organized behind her back. Which is to say that, in the final moments, as Valerie finally rebels against her symptoms, our understanding of the situation is reconfigured. Jerry, after all, was not just the evil mastermind, the AI whisperer, the representative of some anonymously evil power; he is, in the "final determining instance", someone who whispers to a woman's symptoms, telling her to enjoy them. The issue is (and this is of course consistent with C&T's emphasis on migrants) the suppression of difference, this totalizing, self-reproducing, ahistorical power which I'd posited was the secret origin of C&T's whole project. In other words, we end up returning to the realm of the intimate; political evils are turned back into psychological symptoms. Or at least that's what seems to happen, but rather the process is allegorical here, and works in preparation for the show's final performance and epilogue: which is to say that the show affirms a stance in favor of a certain manner of feeling which it takes as the most effective way to achieve its political role (so that feeling is allegorical of its own issue, that of the difficulty of representing political change in a way that may inspire action). The Utopian impulse hen finally realizes its social function as both individual desire and collective projection.
The importance of Tuesday's mother also gives us the key based on which to interpret the final song, given it attempts to convey its political meaning via the allegory of the Mother. "Mother" is of course Mother Earth, the common origin that binds us all together; but the detour via Valerie adds a second layer of meaning to it: Mother is also very much our Mother as individuals. Thus, the show's attempt at getting to the political through the individual comes to fulfillment in this allegorical form, which reconciles us with our intimate origins as well as collective ones. The temporal role of music comes to fulfillment in the synchronous reconciliation of the collective future with the individual pasts, which is achieved through calling back to the totalizing function of the mother in childhood, when we were as if held together by her words, and took them her desire to be ours: a time which cannot be recovered as such, but for a moment called back to as a mediation which makes us realize our commonness. So it turns out that unity is represented after all; but only as the climax to a never completed detour via the allegorical function of the mother. This allegory is then the very symbolic resolution I'd posited was the manner in which narratives attempt to deal with their unconscious historical position: the problem of representation, which is not what the show is openly 'about' but rather the historical stumbling block which it cannot help but run into in order to develop its message, is displaced into the realm of the affective and its temporality (a move permitted by the show's generic affinities), which throughout the narrative is progressively attributed its allegorical function, until it can come back in full force in the moment of the allegory, the Event itself, which "contains" all of the historical Real which C&T attempts to manage and still somehow resolve. At this point, finally, we can give a 'meaning' to the show's structure: not as a blind faithfulness to a genre, but not quite as a conscious "choice" in the vague either: rather, a forced decision to contain and overcome a deep historical truth which is itself unrepresentable as such.
This configures the show's ending in two major ways. Firstly, it allows it to end on the prospect of a resumption of the everyday: when Gus talks about the delay Carole and Tuesday's first album will suffer, in the satisfied tone that he does, he projects the reassuring return of the everyday, with its innocuous little events: after the two heroines brought about an Event, their next job will be to go on with their hopefully more peaceful lives. Which means, that, in the end, the show didn't betray its original generic commitment: as I hinted above, it challenged the "slice of life" to overcome a political hurdle, and, having done that, it can now be reaffirmed as the ideal to strive toward.
But this is forgetting the show's notable final words: "To be continued in your mind". Of course it's very much in line with the pedagogic role, the irrepresentability, the utopian impulse. But, structurally, it also works to create a final separation between the show's narrative and the time of its audience. Carole and Tuesday have done their work and can now return to their everyday; for us though, who have just finished feeling the show's hopeful effect on our political worldview, the work has just begun; so that we must interfere with our own temporality and reconquer our everyday with our own hands. This is the way in which C&T is most "really" political: by having two endings, one which closes the time of the narrative, and a second call to the future which acknowledges that C&T itself cannot hope to 'finish' the job, and that it is only us who work with History who can hope to bring about the show's ideal closure.
Having arrived at the end, we can provide the show's complete allegorical scheme:
ANAGOGICAL: the endless division of society under capitalism and subsequent irrepresentability of a way forward
MORAL: the desire for a private life (and its impossibility in troubled times), the anti-hegemonic power of the feminine
ALLEGORICAL: the incommensurability of personal space-time with the collective and the search for a mediation
LITERAL: the spatialized present
Conclusion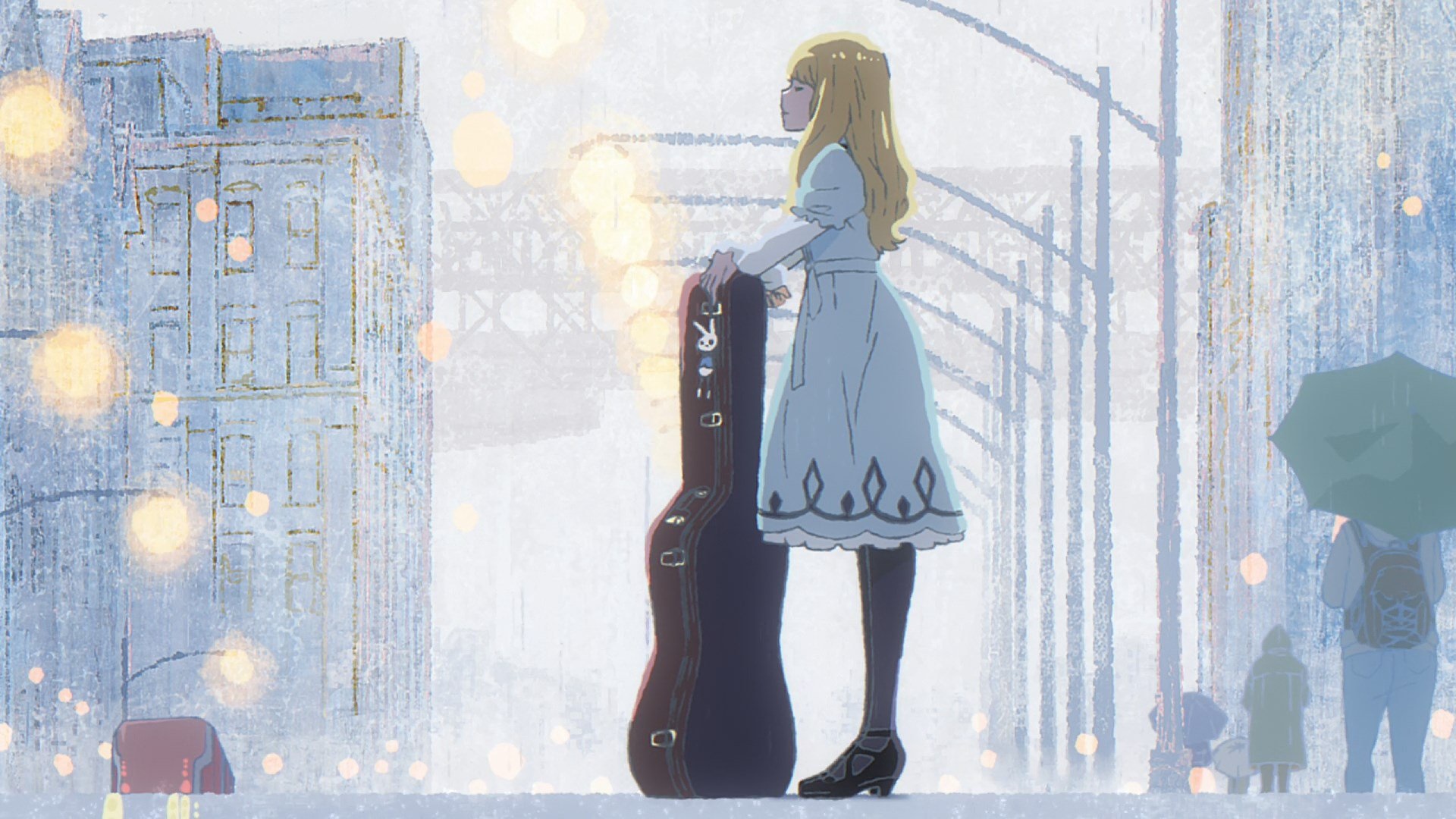 None of this is to say that C&T features any great structural originality. However, it is interesting to see that, as a show that was produced with an overt international goal, as part of FujiTV's "+Ultra" slot, it attempts to fulfill a role which is not quite that of other anime, often overtly localist or at the very least directed toward a public whose sensitivities are predictable and do not need any further interpellation. C&T, rather, takes on a role appropriate for the conditions under which it was made, with its attempt to speak to a wide public from the position of contemporary anime.
Doubtlessly, this frames certain of its positions to come off as rather "liberal", but I hope to have shown that thinking about it that way is something of a trap. This is not because the show never slips into liberal statements and representations (it certainly does); but "liberal" is the name of a solution, one all too vague to be identified before having done the much more difficult work of identifying what C&T really does and what issues it attempts to resolve. Being a show with a view to the global, it is tied to a very precise issue in this attempt, which is the irrepresentability of the political on that scale; only we have appreciate the show and its problematic in this historical manner can we lament the regressions into liberal ideology in a way that would not take us back to wishful thinking about a picture in which we would consume more progressively progressive media (this type of facile categorization is indeed just consumerism for the self-proclaimed progressive). In its attempt to solve a very profound historical difficult, C&T relies on unchallenged notions which can largely be considered as liberal, is what we will say. And then the problem for us is not that the show has issues or that we wish anime was more radical (a wish better placed on the creators themselves and the materials conditions of the industry, how it allows or does not allow new talent to bloom, etc.), but rather: how do we answer this problem in another way that does not rely on liberal common sense? How do we think global change in a concrete way? This is a question whose weight we can feel in so many social moments, so many theories, and not one to ignore. Looking for a solution within us is not enough; and yet, it may be that some kind of allegory is needed to suggest such a picture of global unity, of which the "we only have only one planet" slogan may be said to be an embryonic form, even if it is in most cases not class consciousness.
Capitalism is not a thing to be represented, especially not today where it is more fluid and atomizing than ever: unity against it will not naturally emerge when a certain threshold for social suffering is passed. Unity requires mediations, which may be allegorical images, that isolated groups can identify with, and eventually transformed into class consciousness proper. Which is to say, the problem is that of progressively bringing the global perspective toward imaginability, from images of the system's symptoms (the loss of the accessible subway ticket, the smug face of a neoliberal president, etc.) toward the unrepresentable monster at the heart of the present which they all secretly contain, i.e. capitalism and the class consciousness which is needed to overcome it. Revolutionary activity is not an idle matter of imagination, and "not acting in order to think" (as a Zizek make suggest) is foolish; but, as we see in the current wave of revolts, movements do gather around such images which symbolize everything they stand against. For revolutionaries this must be considered (rather than lamenting the sheer lack of class consciousness in the world), and the question is then finding the mediations which do contain this allegorical value, which can eventually be realized to conceal a bit of the historical Real (the totality known as capitalism). Capitalism and class consciousness cannot be represented as such, but if those local mediations can be found and progressively brought to the fore, then they may enter in resonance with each other, and in this communication, unveil this Real which they all share, and thus give way to revolutionary consciousness. I have written in the past about images of the ideal communal life, and those are necessary; but they're still symptoms of the present, only worthwhile as part of a dialectical process in which they're overcome and subsumed under class consciousness. If we do not consider utopian images in this way, they will easily degrade into much worse political projects. Thus, the question for us is: what are those mediations which can suggest a way out, beyond utopian retreats and institutional politics?
As for C&T, it is far from perfect; and yet, it is at best a uniquely charming work, and valuable insofar as it tries to refresh the value of genres we're already used to. We need to acknowledge that it is something of a negotiation, attempting to politicize a form which was born out of the postmodern end of history and the such; as such, it does remain vulnerable to some facile solutions and reconciliations. But the problem it confronts us with is not to be ignored; I can only hope that anime's globalization brings about more shows like it.